Lululemon inspires socially
The clothing co's brand experience manager explains the rationale behind its robust social media presence.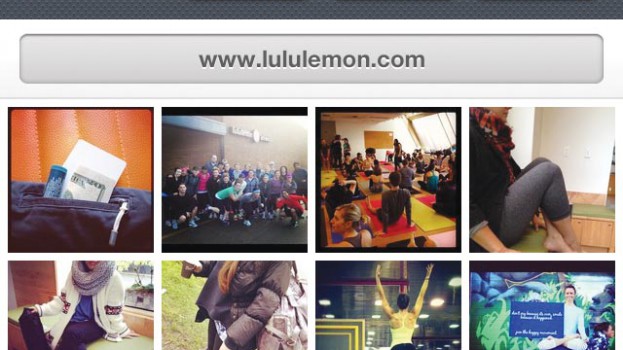 Lululemon says it didn't design its social media presence – it grew organically.
"We go where our customers go," says Lesia Dallimore, brand experience manager, commerce, Lululemon. "If our guest came to us on XYZ platform, we'd probably just jump in there."
But regardless of the organic seeding, each of its social media platforms is designed to inspire, educate and challenge its customers. Everything it posts is meant to encourage healthier lifestyles, challenge guests to new goals, or create conversation around the community. The social experience is simply an extension of its in-store philosophy, Dallimore says.
The company has a robust social media presence: more than 500,000 Facebook fans on its corporate page alone (it also has individual store pages), 175,000 followers on Twitter and hundreds of videos on YouTube (including the now-viral Shit Yogis Say, staring Dallimore herself). The company is also on Tumblr, Foursquare, Instagram and Zite. At press time, they've started playing with Pinterest. Oh, and they blog too.
"We're all huge internet nerds," says Dallimore, adding that the team tailors each platform differently, utilizing it in the best way to promote challenges or inspirational and educational experiences.
Instagram, for example, is purely image based. While brands are just now flocking to Instagram, Lululemon's been on the platform since July 2011 and has one of the largest followings in Canada with more than 3,000 followers.
The company often posts photos of challenges to subscribers, interesting graffiti or quotes, and of course, yoga poses. These are interjected with product photos and behind-the-scenes shots, all cross-connected across its other platforms, making sharing the photos easy.
"Instagram really feeds a lot of the other channels," Dallimore says. "We use it for Tumblr, Facebook and Twitter."
In comparison, Lulu's Facebook presence is designed to create conversations and educate fans about the community. Each of its locations has a personal Facebook page run by store employees, designed to extend online the community the company tries to create in store.
"Facebook, for us, is a digital kitchen party," says Dallimore. "When you walk into a Lululemon store, we don't just want to hand you some gear, we want to chat with you, find out your goals. If you want to know the best place to get a coffee down the street, we want to tell you because we're experts in our community. And those are the same conversations we're having on Facebook."
And they continually explore new channels to reach their audience, she says. The company recently became the first brand on Zite, a customizable magazine on the iPad/iPhone.
Zite pulls in content from different sources across the web – mostly news outlets and blogs. The app then starts pulling in content from other sources based on articles the users read. Lululemon is the first brand to feed its blog through Zite – thus integrating its content into customers' personalized magazines. The app is designed to find like sources – so when customers read the blog through Zite, Dallimore says, it will pull up similar inspirational stories about active lifestyles, health tips, and, of course, yoga news.
"All [social media channels] serve different purposes for us," she says. "There are different people using them, we have different conversations in each one, so each has its own separate strategy. But we really just try to inspire 'her' in all sorts of ways."
Jump to:
Red commands audience engagement (literally)
Pure dispenses calm to launch novel hybrid retail concept