Overall winner: Indigo brings the love to school libraries
A revamp of the retailer's Adopt a School program results in increased donations and awareness, with a 1,033% return on its marketing investment.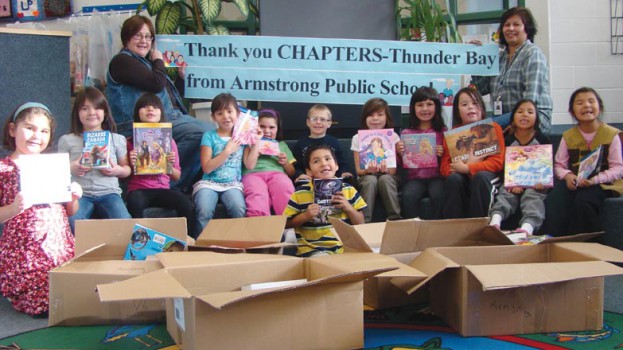 Inspiration
In 2004, the Indigo Love of Reading Foundation was established in response to the underfunding of high-needs elementary schools and the resulting literacy crisis. The Foundation hosts Adopt a School, an initiative in which Chapters, Indigo and Coles stores support a high-needs school in their community. By collecting donations from customers at checkout, and passing the donations along as Indigo gift cards, the schools can rejuvenate their libraries.
The 7,000 Chapters, Indigo and Coles employees act as Love of Reading ambassadors, building relationships with their adopted schools' students, principals and librarians. Many have become emotionally invested in the schools' success and are active fundraisers. Since 2009, more than $800,000 has been raised for school libraries across Canada.
However, the program's current model faced barriers of scalability and engagement. While employees were highly engaged with Adopt a School, customer awareness rarely went beyond donating at checkout, and many didn't connect Indigo to Love of Reading. The program had potential to raise more money and better connect with customers, but to achieve that Indigo needed a new community-driven strategy.
Strategy
Better The World, an organization that helps companies develop tech-enabled CSR programs, worked with Indigo to redesign Adopt a School's online presence in time for the 2011 school year.
Recognizing the need to increase the profile of the relationship between Indigo and Love of Reading, its solution for Adopt a School was an online fundraising community driven by peer-to-peer sharing within a revenue-generating model.
Execution
The new online platform was built for schools to customize their Adopt a School pages with stories, pictures and videos. Using social media tools, teachers, principals and parents asked their network to simply "adopt" their school, by donating money or buying an Indigo gift card.
Schools sent targeted, Indigo-branded messaging to their communities, who spread it amongst their online networks, inviting people to purchase a gift card for themselves. For every $25 gift card purchased, Indigo donated the value of a book to the adopted schools. This brought school staff and students into the stores to redeem thousands of dollars worth of books. Every activity was automatically shared with networks on the web.
This model made fundraising easy and gave supporters something valuable in return. It also had a positive impact on Indigo's bottom line.
Results
Online donations grew by 140%. Adopt a School site registrations grew by more than 1,200%, with 60% of users new to Indigo's database. Almost 3.8 million impressions were created and 30,000 messages were sent through peer-to-peer sharing.
Through minimal investment, Indigo achieved at 1,033% return on its marketing.
Further, Canada's biggest book retailer rejuvenated more than 150 school libraries and raised awareness about the literacy crisis. In doing so, Indigo achieved what every company strives for in a strategic CSR program: customer-driven activity, positive growth on the bottom line, and local impact on a national scale.
Judges' comments
"Indigo's significant and positive results in online donations and return on marketing investments speak volumes on how peer-to-peer approaches, if done well, can make a  huge impact. My favourite piece of this program was shifting the control over to the schools. Providing this opportunity empowers the schools and creates personal accountability for groups to create awareness of the program."
– Tonia Hammer, Molson Coors
"Indigo's campaign was executed brilliantly from a business standpoint. It's is important to find a cause that is intrinsically linked to your brand so that you can do well as a business while doing good for society. Indigo's program strikes the perfect balance."
– Stephanie Cox, Hellmann's
"It allows for creative engagement and provides a platform for communities to tell their story – not just a platform for Indigo to build its brand. By committing to make a donation for every $25 gift card purchased, Indigo is helping to drive the desired action and getting the brand benefit of awareness of their support. It isn't a marketing campaign built around a cause, it is a true cause campaign."
– Christina Topp, WWF
Jump to:
Cashmere adds pink to its compassionate fashion statement
Tetley Tea puts renewal in action