Marketers of the Year: There's something about Mary De Paoli
As this year's overall winner, Sun Life's CMO brings soul to insurance.
Sun Life's EVP and CMO Mary De Paoli has a lot on the go. In fact, Tony Chapman, the president of Sun Life's agency of record Capital C, says she runs the largest portfolio of anyone he's dealt with during his 30 years in the ad business. A large chunk of that responsibility comes from Sun Life's decision this February to make her the first woman in the Toronto-based insurer's roughly 150-year history to sit on the company's global executive committee.
But more importantly for De Paoli, it's also the first time a chief marketing officer was named to that role. She leads a global marketing team of roughly 300 people worldwide, a stark contrast to the four employees she had on her team in Toronto when she was promoted to CMO in 2007. "The thing that meant most to me was that in a company that is largely dominated by actuarial and financial expertise, there is now room at the table to look at marketing as a key strategic contributor," she says. "That was the proudest part of all of this."
De Paoli leads the marketing efforts for a company locked in a three-way battle for the Canadian insurance market, along with Manulife and Great-West Life, although competition comes from virtually any company that offers financial products, be it independent financial advisors or low-fee banking services. De Paoli says Canada's Big Five banks heavily outspend Sun Life on marketing, yet the insurer's internal research has it ahead of its two major rivals and trailing only RBC and TD in terms of unaided brand awareness among its target.
Sitting in a conference room on the seventh floor of the Sun Life building in downtown Toronto, where she has built out a marketing staff to close to 150 people, De Paoli recounts her team's biggest success this year: BrighterLife.ca. A content marketing website centred around personal finance subjects (with articles like "Go green and save this Christmas season"), it's a Canadian success story after one year. BrighterLife.ca has won international marketing awards and the idea has been exported to Indonesia, one of Sun Life's most important international markets. The site now generates about 30,000 unique viewers every month.
The site eschews heavy-handed sales techniques, its intent is to get potential customers sharing their financial questions with others in their social network. The idea being that when it comes time to actually purchase a financial product, Sun Life will be at least on the mind, if not top of it.
Bill McCollam, VP digital strategy at Sun Life, says site traffic is generated by paid media on properties like CNN.com (Sun Life tries to associate BrighterLife adverts with related content whenever possible), search engine marketing and various social media. Beyond a display ad linking to other Sun Life web platforms and a banner ad at the bottom, there is little to indicate the site is connected to Sun Life.
De Paoli says BrighterLife.ca's international success is an example of innovation in an industry not typically known as fertile creative ground for aspiring marketers. "Unlike a lot of multinational corporations that import global creative into Canada, we go the other way," says De Paoli. "We are now an exporter of ideas."
The focus on lifestyle jives with messaging from Sun Life's latest campaign. Under De Paoli's watch, Sun Life ushered in a sense of irreverence in its advertising and a new attitude toward how the insurance giant packages financial services products. According to Chapman, she humanized the idea of selling insurance. "The Sun Life brand today under her watch has got a lot more soul to it," he says. "It's a human side. It's a Modern Family kind of humour."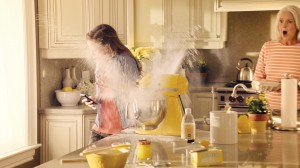 The new television spot promotes a worry-free retirement – with scenes of a couple hanging out with their grandkids – and moves the focus from saving money to enjoying the golden years. It plays off the company's tagline "Money For Life" and reinforces in consumers' minds the association between Sun Life and a pleasant retirement.
De Paoli notes another Sun Life success, the "Unretirement Index," a branded annual survey it has released for the past three years that shows how the concept of retirement is changing among North Americans. The Index has garnered more than 200 million global media impressions in that time, including media outlets like the New York Times and CBS. Local versions of the report are now unveiled in Hong Kong and the Philippines.
Over the past year, De Paoli has also taken steps to refine Sun Life's strategic sponsorship opportunities, moving beyond simple stadium naming rights or putting a corporate logo on a sports team's jersey to deeper programs. A three-year deal signed with the Canadian Football League in 2011 has already increased Sun Life's brand awareness by 8% due to tie-ins such as giving away worn gameday jerseys in a Facebook contest. De Paoli describes it as a great way to engage CFL fans with the Sun Life brand as part of a digital activation that drove traffic to other branded online properties. (However, she notes the logistics around unpacking boxes of unwashed, two-day-old football uniforms will likely change for future contests.)
The brand also partnered with the CFL's players' union to offer seminars on managing their post-football financial life, and worked to recruit former players into its ranks as financial advisors.
The CFL partnership led to a unique agreement with Nestlé (also a CFL sponsor) that opened Sun Life to a marketing channel not normally associated with financial services. The brand partnered with the CPG company on an in-store contest, donating prizes such as $50,000 worth of advice from a Sun Life advisor. This put the Sun Life logo on 10 million POS displays across Canada in major retailers like Longo's, Loblaws and Walmart.
Despite leading a marketing team that won numerous accolades over the past year, De Paoli ably deflects the importance of her own contributions and credits the team she works with.
She says the biggest challenge any marketer in her category faces is consumer confusion, which can tip over into indifference. Consumers still struggle to understand what insurance products they need and when they need them. Battling this information gap remains De Paoli's biggest focus moving forward.
"What we are doing is creating an improved user interface at every single touchpoint," she says. "It does come down to that. It's the moment of truth every time you talk to us."