Leo Burnett grabs Young Guns honour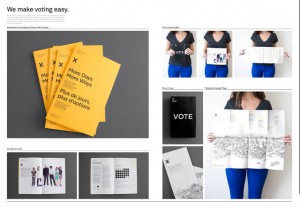 Leo Burnett Toronto has been named Design Agency of the Year by the Australia-based Young Guns awards competition.
Young Guns is an international awards  competition that recognizes upcoming talent in the advertising and media worlds aged 30 or under. Started in Sydney in 2001, it is held annually and awards agencies and individuals in roughly 40 categories. Submitted work is judged by a jury creatives, writers, designers and past winners.
Leo Burnett Toronto won for work that includes its self-promotional Solstice Calendar, whose pages grow lighter in shade as the days grow longer, and its "We Make Voting Easy" online campaign for Elections Ontario that featured information about how easy it was to vote in the 2011 Ontario election.
Correction: This article has been changed after its original publish date to show that the Young Guns award show in question is not affiliated with the New York-based Art Director's Club competition of the same name. 
Tags: Leo Burnett, Young Guns