Ikea plays with its food
The furniture retailer has launched a new food idiom-filled TV spot which centres on the kitchen.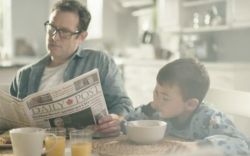 Ikea's newest TV spot, which launched Dec. 24 and runs until Jan. 20 centres on the kitchen, with 30 and 15-second spots that use food idioms to illustrate the ways consumers use the room.
With  creative from Leo Burnett and media by Jungle Media, the "Anthem" spot has a national buy with the first two weeks focusing on holiday programming and the final weeks focusing on the new winter TV premieres, says Krystal Seymour, investment manager, Jungle Media. The target for the campaign is women aged 25 to 54, with the specialty programming target skewing a bit older.
Morgan Kurchak, creative group director, Leo Burnett says creative in the new spot aims to capture what he calls the "beauty and emotion" of the kitchen without taking it too seriously.
"We wanted to capture all the sentiment around the kitchen," he says. "We started off by writing a lofty serious voiceover and made it playful with the food idioms and liked the result of that. Creative in spots for Ikea is all designed to make you want to go home and give your house a hug."