Creative Report Card: Agency runner-up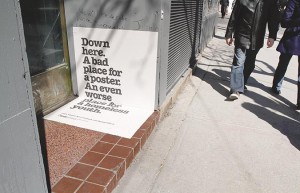 Leo Burnett is the antithesis of introverted. The serial award recipient is never bashful when it comes to collecting hardware (having walked away with trophies at eleven of the sixteen award shows we account for in the Creative Report Card), and it certainly doesn't have a timorous spirit when promoting its brands.
Interrupting everyday environments with audacious outdoor creative is what Leo Burnett is particularly good at, and it's what largely contributed to snagging second place on strategy's tally of top creative shops. Despite a sweep of prizes in categories such as TV for Raising the Roof, radio for P&G and print for TVO, Leo Burnett demonstrated its particularly strong finesse for show-stopping OOH as a winning weapon.
The agency built a reputation for OOH with its work for James Ready over the years, such as the famous billboard coupons that featured deals of the day from local businesses and asked people to take a picture of the board to redeem the discounts. The approach helped double business and add points to the brand's market share.
Leo's success in novel OOH media ideas are a result of collaborative departments, says Judy John, CEO and CCO. "It's how we mix teams; we throw a different configuration depending on what the project requires," she notes, adding that the agency holds daily "Triage" meetings that have account people, planners, creatives and producers rifling through multiple projects on any given account.  "We jam it all in one hour. It's efficient, and because you're making all the decisions together, everyone starts to get the vibe of what the account is all about."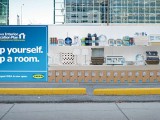 Recently, for the launch of Swedish retailer Ikea's 2012 product catalogue, the agency marked locations that needed inspiration (such as transit stations, restaurant patios and food courts) with large 3D tabs that pointed to items found in the catalogue (lamps, carpets and chairs).
The "Marking Inspiration" tab campaign gave the retailer an 11% boost in sales – making it the most successful catalogue drop in the brand's history – and resulted in wins at the Advertising Design Club of Canada (ADCC) awards gala. Hardware for Ikea outdoor executions were also collected at international shows such as Cannes, where it won a Bronze Lion in Media for the "Moving Day" campaign as well as at the Communication Arts award show for advertising that turned an elevator into an Ikea wardrobe. "We always want to bring the store outside. Because the best way to get [consumers] into the store is to go out there, inspire and surprise them," she adds.
The agency also took home awards at ADCC for its unique outdoor placement of Raising the Roof posters. Placed on the steps and sidewalks where homeless youth are often seen but ignored, the creative featured copy such as: "Down here. A bad place for a poster. An even worse place for homeless youth."
"A lot of times, outdoor is used as a one-way medium and there is a place for that. But we also think about it as a broader brand experience, it can be a two-way medium people can participate with," says John. "It's about being interruptive."
Tags: Creative Report Card, Leo Burnett