Shopper Innovation Awards: Original idea
McDonald's picks up Gold for answering consumers' questions, while Gotstyle and Maynards both take Silver.
GOLD

McDonald's takes on the skeptics
As people become more informed about food production, the new battleground for the QSR industry is the perception of food quality. McDonald's has long been confident in its food, practices and procedures, however consistently low food quality scores revealed that some were not as confident.
The QSR found that food quality advertising actually fuelled negative perception, so McDonald's enlisted Tribal DDB to help target consumers who actively question the provenance and nutritional value of its food.
The only way people would start to listen to McDonald's was if it actively acknowledged consumer concern during the consideration and pre-shop phases of their path to purchase. This insight led to an integrated campaign across web, television, in-store and outdoor that provided shoppers who had questions with unfettered and unfiltered access to the company.
A website allowed Canadians to ask any food-related question they wanted, and received answers within three days. The brand created shareable video responses. "Behind the scenes at a McDonald's photo shoot" achieved 8.1 million views, "What is in the sauce that is in the Big Mac?" garnered 2.5 million YouTube views and "How McDonald's Canada makes their world famous fries" racked up close to 2.1 million at press time.
The brand received more than 18,000 questions, exceeding the campaign target by 600%, and the site generated more than five million Canadian interactions with an average engagement of four minutes, and over 13 million YouTube channel views.
Food quality perception metrics have exceeded all expectations. An independent study showed that the top three measures for food quality perception among the brand's target improved by 70%, 31% and 39%, respectively, translating into increased pre-shop purchase intent. The campaign also saw a startling 48% improvement in overall opinion of McDonald's among lovers, haters and fence-sitters combined.
Credits:
Client: McDonald's
Agency: Tribal DDB
CD: Louis-Philippe Tremblay
Strategists: Jason Chaney, Kevin McHugh
CWs: Ryan Lawrence, Ian McKenzie, Tiffany Chung, Sanya Grujicic
ADs Benson Ngo, Derek Blais, Kara Wark, Amy French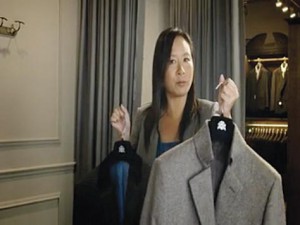 SILVER
Gotstyle reinvents online shopping
In today's busy world, a man doesn't always have the time to shop in stores, so Gotstyle The Menswear Store enlisted its AOR Dorsey/Holme Experience to extend shopping beyond the retail store by leveraging the latest video chat technologies.
With Gotstyle's video-based shopping service, which launched in October 2012, customers could video-call the store using Skype or FaceTime, and connect directly with an expert stylist to guide them through a live shopping experience. After selecting an outfit, the customer could pay via credit card and request delivery anywhere in Toronto's downtown core.
The launch of the video shopping service was supported by the "Naked Man" YouTube video, which garnered nearly 30,000 views online in less than three weeks, and aired in rotation on the main jumbo screen at World MasterCard Fashion Week in Toronto. A shorter version of the video also played in Cineplex theatres prior to the premiere screening of the James Bond film Skyfall and a "Naked Man" Facebook and online videogame launched in November to further promote the service. The campaign has garnered significant earned media, and consumers embraced the video shopping service, which subsequently led to significant incremental revenues for the store.
Credits:
Client: Gotstyle The Menswear Store
Agency: Dorsey/Holme Experience
CD: Gary Holme
Strategist: Stephen Dorsey
ADs: Gary Holme, Jay Melnychuk
CWs Gary Holme, Jay Melnychuk, Joseph Nanni
SILVER

Maynards customizes candy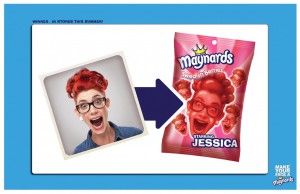 Candy is the ultimate impulse buy, and so the category is highly competitive with new products introduced every day. Overcoming the challenge of category competition was only half the battle for Maynards, which was also looking to build umbrella brand affinity and awareness amongst elusive millennials.
Thanks to reality TV and YouTube, we live in a world where anyone can be famous. Many young people are cultivating themselves as pseudo-celebrities and have a deep desire to be discovered. The "Make Your Face a Maynard" program capitalized on this obsession.
The campaign, created by The Hive, invited consumers to engage with Maynards by giving them the chance to become an actual candy, sold in stores across Canada. A cast of silly characters were featured in OOH that spanned transit, malls and movie theatres, alongside TV spots and online ads. Special packaging and in-store displays rounded out the brand experience, and all communications drove to the Maynards Facebook page where they could digitize their face into a Maynards candy.
The campaign ran from mid-July to the end of September 2011, generating over nine million earned media impressions. Over 50,000 new fans joined the Facebook page to create thousands of candy faces, and after the program ended, an additional 50,000 new fans joined the page to plead with the brand to bring back the contest for another year. More importantly, the program drove purchase intent (+22%), unaided brand awareness (+24%), relevance (+16%) and uniqueness (+24%), surpassing expectations.
Credits:
Client: Mondelez Canada
Agency: The Hive
Director of marketing: Mackenzie Davison
Brand manager: Jessica Sheth
CCO: Simon Creet
AD: Brad Van Schaik
CW: Klint Davies