Shopper Innovation Awards: Out-of-the-box retail
RBC takes the Gold for its new retail format, Walmart wins Silver for its Outdoor Living Centre and Sobeys takes Bronze for its Moodie Foodie app.
GOLD
RBC reinvents 'retail' banking
The financial services category – perceived as complex, intimidating and conservative – is a difficult one to transform. The challenge for RBC was to develop a new consumer-friendly model that would encourage product exploration and interaction with its staff.
First launched in October 2010, RBC introduced a new retail format and technologies to empower customers to discover options and ask questions.
The RBC retail stores include interactive merchandising zones that allow clients to discover ways the bank can help them to achieve their goals, and interactive large screen discovery tables and tablets enable clients to explore financial questions.
Instead of long hallways leading to closed doors, the bank introduced open spaces where customers were encouraged to interact with the technologies. RBC staff members were on the floor ready to answer questions and provide advice, and events and seminars were held to educate potential and existing clients.
Results, when compared to RBC's previous branch design, showed a 30% increase in client experience scores, a 36% increase in its competitive rating and a 10% increase in the likelihood that consumers would recommend RBC to family and friends, all supporting a national roll-out.
Credits:
Client: RBC
Chief brand, communications officer: Jane Broderick
SVP marketing, channel strategy: Neil McLaughlin
VP, marketing services, transformation: Alan Depencier
VP channel strategy: Lawrence Spicer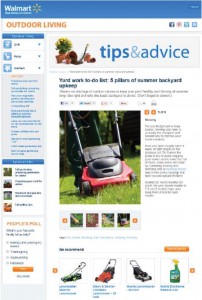 SILVER
Walmart inspires outdoor living
To drive sales of its outdoor living brands online, Walmart turned the "showrooming" phenomenon to its advantage. Working with agency Mediative, the retailer created an interactive online experience replete with lifestyle and shopping content.
Walmart's Outdoor Living Centre (OLC) microsite featured interactive buying tools, tips and advice, inspirational lifestyle content and top product recommendations, all related to the grilling, barbeque and patio product categories.
During the peak period for outdoor living shopping, OLC outperformed the retail department. Consumers who viewed products after visiting OLC were 73% more likely to purchase versus those who only visited individual department pages. The microsite attracted new shoppers, and its success resulted in a second collaboration between Walmart and Mediative to launch the Walmart Editorial Auto Centre.
Traffic was driven by shopper needs and inspiration, rather than product details – resulting in more than 90% of impressions coming from outside the department. Customer feedback indicated that OLC increased the likelihood of visiting a Walmart store location. Online traffic and sales increased, with 172,000 visits and 113,000 product views on Walmart.ca, and 3,000 orders as a direct result of the microsite.
Credits:
Client: Walmart Canada
Agency: Mediative
Senior director, publisher relations: Ben Rodier
Head of creative services: Cate Cadbury
Senior manager, digital: Galina Boutvilovski
Director, digital marketing: Drew Cashmore
Marketing managers: Jeff Tate, Meghan Rose 
BRONZE

Sobeys spawns an emotional app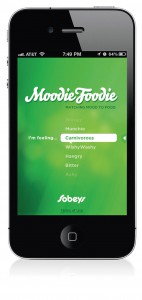 Sobeys wanted to create a new way for shoppers to navigate and discover meal inspiration that acknowledges a deep emotional relationship with food. The result was "Moodie Foodie" – the first app that matched a person's mood to their food.
The app, created by Leo Burnett, serves up food inspiration based on how the person is feeling – from flirty, feisty and playful to carnivorous, experimental and "hangry" (angry because you're hungry). The app emphasized and reinforced Sobeys' passion for food and provided a form of genuine utility the consumer couldn't get anywhere else.
The app was designed to have users participate in building the different mood and food categories, essentially having them help feed the growth of the app. Moods and foods can be shared with friends on Facebook or Twitter – driving more downloads and participation. And a multi-platform media campaign supported the launch to create awareness.
Within the first few days of launch, it became the second most downloaded app in Canada in the iTunes Lifestyle section. There were over 20,000 downloads in its first month, achieving Sobeys' goal of making it to the iTunes "What's Hot" list, and more importantly, engagement is high with new foods and moods being added by users every day.
Credits:
Client: Sobeys
Agency: Leo Burnett
CEO/CCO: Judy John
CDs: Lisa Greenberg, Shirley Ward-Taggart
ACD: Ian Kay
AD: Mark Nilsen
CW: Jennifer Smith