The B!G Awards: Taxi cooks up a T-shirt line for Boston Pizza
The agency's efforts to push the casual diner's improved rib offering results in the invention of an en vogue fashion item and a Bronze B!G award.
 BRONZE WINNER

The challenge and insight
Boston Pizza was looking for an innovative way to let people know it had improved its rib offering. It had been years since the restaurant advertised the food item, and with ribs already popular among casual dining competitors such as Montana's, Boston Pizza needed to stand out.
Ribs are messy, but fun to eat. Eating them requires ripping meat off the bone, getting sauce everywhere and using an endless number of napkins. With this insight, Taxi looked for a family-friendly idea that would appeal to the restaurant's target of dads and provide a solution for them to enjoy Boston Pizza's ribs without the stress over the mess.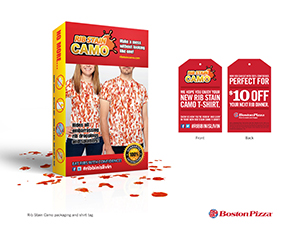 The B!G idea
The agency invented a product that would allow rib lovers to eat ribs with confidence, and never have to worry about hiding embarrassing rib droppings or splatters again. The "Rib Stain Camo T-shirt" lets a diner make a mess without ever looking like one.
To support the T-shirt launch, Taxi created 60-second infomercial-style TV spots driving viewers to Ribstaincamo.com to purchase the product. A special version of the spot also ran during the U.S. Open. In addition, online banner ads, blogger outreach and promoted tweets and trends on Twitter targeted dads, rib enthusiasts and food lovers.
The ads didn't include Boston Pizza branding for the first two weeks, the exception being a coupon for $10 off a rib dinner at the restaurant with every shirt purchased. As the campaign progressed, Boston Pizza branding was added.
The impact
After the first 24 hours, Boston Pizza garnered over 230,000 impressions and 15,000 YouTube views. By the second week of the campaign, the site received over 30,000 visitors from 10 different countries. In the third week, the brand sold out of its initial inventory of 1,000 shirts. By the end of the fourth week, 1,700 shirts were purchased, and in the fifth week, the product sold out again.
Judge's comment
"This is a super creative campaign that was well executed at multiple touchpoints. The sales result is confirmation this was a powerful idea, doubled by the fact that it created a lot of buzz."  – Martine Bouthillier, senior marketing manager, Molson Coors Canada
Jump to:
Gold winner: Grip gives Kokanee the Hollywood North treatment
Silver winner: OgilvyOne reignites Dove's real beauty convo