Beer Store's $30 million rebrand
The retailer has put an emphasis on customer service and providing education for a public that's interested in how to pair food with beer.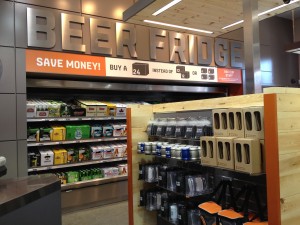 After results from a rebrand at four pilot locations launched in May exceeded expectations, the Beer Store plans to build and renovate 94 more locations by the end of 2014 with new colours, employee uniforms and touch-screen displays.
Already, 13 stores have gotten the new Beer Store look, with plans to build an additional 13 new stores and renovate 61 more before the end of 2014, says Andrea Randolph, VP retail, Beer Store. In total, $30 million is being invested in the rebrand over 2013 and 2014. With design by Toronto-based Jackman, it also included dropping the "The" from The Beer Store logos and uniforms as well as introducing a dedicated bottle return area.
Beer Store executives made the announcement Monday morning at a brand new 6,800 sq. ft. location in Toronto's The Junction neighbourhood, which features a separate bottle returns room and allows for fully self-serve shopping.
Randolph says the four pilot stores saw an increase in sales and market share, as well as increased customer satisfaction.
With consumers wanting more education around how alcoholic beverages pair with food, the Beer Store has put an increased emphasis on pairings and tastings. As well, staff has been schooled, literally, at "Beer College," gaining extensive product and customer service knowledge, which has been well received by both customers and staff, Randolph says.
A campaign launched in May under the slogan "Meet Beer" to drive home the message that every occasion should be a beer occasion, is being carried into all Beer Stores, Randolph says.
The slogan applied to a store's neighbourhood (ie. "Stockyards, Meet Beer") has also gone over well with consumers, Randolph says, as it shows how the Beer Store is investing in the community.
The rebrand was done in consultation with part owners Labatt Brewing, Molson Coors Canada and Sleeman Breweries.
Randolph says the renovations increase the opportunity to showcase more varieties of beer through the introduction of extra fridges, has been well received by customers and also benefited brands.
"The new coolers allow [brands] to put their innovations in front of customers in a way they couldn't in those stores before," Randolph says. "We certainly have seen the benefits for that for brands that might not have sold as well before or new package innovations that may not have done as well."