CASSIES Bronze: Boston Pizza's epic Pizzaburger launch
The restaurant chain enlists historical figures to launch a one-of-a-kind offering.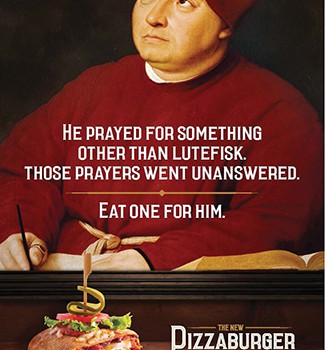 Events, Seasonal & Short-Term
Situation Analysis » When your name is Boston Pizza you could be mistaken for just a pizza restaurant, but BP has a menu with more than 100 items. With the 2013 NHL playoffs fast approaching, BP developed a new product – a bacon burger wrapped in a pepperoni pizza – and called it the Pizzaburger.
 
Strategy & Insight » It had been a while since the guys who go to BP had seen anything groundbreaking on a burger menu, so the Pizzaburger deserved a memorable launch. It wouldn't be enough to call it new; it needed to be positioned as something historic.
Execution » The campaign ran for nine weeks starting in April 2013, featuring TV, POS, Facebook, online banners, pre-roll, YouTube, Xbox and Bostonpizza.com. On TV, 60-, 30- and 15-second spots showed men through the ages (the caveman, the peasant, the knight, the Viking and the cowboy) all urging the men of today to eat a Pizzaburger. POS and digital picked up the same theme.
Results » Burger sales for April to June 2013 were 232% higher than the previous year, compared to a +50% objective.
Cause & Effect » The spectacular response suggests the messaging was a key part of the plan. This was confirmed by Millward Brown pre-testing, which came back with outstanding results on all KPIs.
Credits:
Client: Boston Pizza International
EVP, marketing: Steve Silverstone
VP, marketing: Joanne Forrester
Marketing manager: James Kawalecki
Agency: Taxi Canada
ECD: Darren Clarke
CD: Niall Kelly
ADs: Niall Kelly, Scott Johnson
CWs: Darren Clarke, Jono Holmes, Geoff Morgan
Designers: Brooke Hennessy & Niall Kelly
Group account director: Edith Rosa
Account director: Anna Halfpenny
Account manager: Natalie Street
Planner: Sean McDonald
VP, integrated production: Cynthia Heyd
Broadcast producer: Winnie Alfred
Print producer: Sharon Govang
Interactive producer: Sonja Vreugdenburg
Illustrator: David Palumbo
Retouching: Andrew O'Driscoll
Media: PHD
PR: High Road Communications