CASSIES Bronze: Canadian Tire gets fresh with air filters
A campaign for Fram Fresh Breeze in-cabin filters gets consumers thinking about a topic that isn't usually top of mind.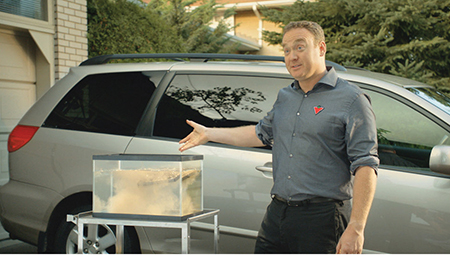 Events, Seasonal & Short-Term
Situation Analysis » When a car draws air from outside, the only barrier against the smoggy, dusty atmosphere is the in-cabin air filter. Canadian Tire has always sold the Fram Fresh Breeze brand, but it had never been the focus of advertising.
Strategy & Insight » Canadian Tire wanted to uncover untapped sales potential, leading to a non-traditional target: moms. Of course, moms don't wake up thinking about in-cabin air filters. They are, however, thinking about their family's health and safety. So they could be shocked to learn that with an old in-cabin air filter, the air inside your car could be up to six times dirtier than the air outside. The challenge was to deliver this news without too many technical details or fear-mongering.
Execution » The campaign ran in October/November 2012, and the launch 30-second TV spot layered in some comic relief. A Canadian Tire spokesman demos the product for a family, and it's clear dad has no idea of the problem. But mom is taken aback when she realizes what the family has been breathing. Print also went for a shock effect with a tab to peel back that covered an image of a dirty vent.
Results » The business objective for the campaign was 30% growth, year over year. Q4 sales results versus year ago were actually up 148%. December was also up 95%.
Cause & Effect » There were no other material changes in brand support, and tracking showed a brand link of 69%, versus a 58% norm.
Credits:
Client: Canadian Tire
COO & SVP – automotive division: Allan MacDonald
AVP, strategic marketing: J.J. Hochrein
Strategic marketing manager – automotive: Chris Lee
Strategic marketing specialist – automotive: Derek Welosky
Agency: Taxi Canada
ECD: Darren Clarke
Group account director: Lesley Rivard
VP, integrated production: Cynthia Heyd
CD: Irfan Khan
Senior CW: Tom Greco
Senior AD: Colin Brown
Producer: Megan Flett
Account director: Trevor Byrne
Account supervisor: Michael Strasser
CD, Taxi Montreal: Alex Gadois
CW, Taxi Montreal: Tanya Henri
Producer, Taxi Montreal: Anick Rozon
Account services, Taxi Montreal: Carol Nantel
Associate account director, Mediacom: Andrew Tziatis
Director, Maple Diversity: Niraj Sinha