CASSIES Bronze: Corona's high life
The beer brand walks away from teh beach to encourage its millenial target to "Live Mas Fina."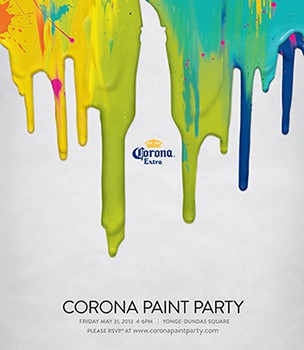 Off to a Good Start
Situation Analysis » Corona spent years positioned as the beer for beach-side relaxation, and this made it Canada's number one import beer brand, ahead of competitors such as Heineken and Stella Artois. But in 2008 the tide turned, and through 2011 Corona lost 20% of its volume. The reasons were: a market shift to wines and spirits; copy-catting from brands like Bud Light and Miller, which launched lime-flavoured extensions; and low relevance of the at-the-beach messaging with the crucial millennial audience.
Strategy & Insight » Given its relaxed stance, Corona was not associated with the extraordinary moments for which millennials live. The words "La Cerveza Mas Fina" (literally "The Beer More Fine") have been emblazoned on every bottle since 1925. This sparked the "Live Mas Fina" platform, a rallying cry to millennials to live outside their comfort zones.
Execution » Creative launched in March 2013 with a manifesto poster to "Live Mas Fina" accompanied by an anthemic 60-second TV spot. Digital, social and OOH channels were also used, as well as effort in bars and at retail. The first annual Corona Paint Party launched in Toronto, with a similar event in Montreal.
Results » For the first half of 2013, Corona saw 1.5% growth in a market down 4%, a significant turnaround in the beer market.
Cause & Effect » The business results directly correlated with sales, and there were no additional factors to cause the turnaround – in fact media spend was down 20%. As for breakthrough, Link testing on the Live Mas Fina TV spot showed above-norm scores on all key brand metrics.
Credits:
Client: Modelo Molson Imports
President & CEO: Drew Munro
Director of marketing: Stewart Priddle
Marketing manager: Lindsay Wilson
Brand manager: Courtney Murgatroyd
Agency: Zulu Alpha Kilo
CCO: Zak Mroueh
ECD: Shane Ogilvie
CD: Jon Webber
ADs: Mooren Bofill, Jamie Mageau, Andrea Romanelli, Jenny Luong
CWs: Erin Beaupre, Kaidy Wong, Nick Asik
Strategic planning director: Shari Walczak
Group account director: Kate Torrance
Account director: Dic Dickerson
Integrated production director: David Isaac
Agency producer: Melanie Lambertsen
Producers: Ola Stodulska (digital) Kari Macknight Dearborn (print), Kate Spencer (print)
Studio artists: Greg Heptinstall, Brandon Dyson, Heather Lee
French agency: Tank
French agency team: Valya Kruk, Sophie Gaudet, Jean-Philippe Marcoux
Media agency: MEC
Media team: Marty Vaspa, David Stanton, Natalie Melanson
Event company: The Hive
Event team: Skye Brain, Lizzie Short, Stephanie Dowhy
Production house: Boxer Films, Frank Content
Director: Jonathan Hyde
Engineer: Keith Ohman
Executive producers: Beth George, Danielle Kappy
Production house producer: Maeliosa Tiernan
Cinematographer: Jonathan Hyde
Editor: John Evans
Post production house: The Vanity, Panic & Bob
Compositor: Naveen Srivastava
Colourist/transfer house: Eric Whipp, Alter Ego
Audio house: Pirate
Music producer/sound design: Chris Tait