CASSIES Bronze: HSF targets apathetic boomers
The Heart and Stroke Foundation's "Make Health Last" campaign shows seniors how their last 10 years could be different.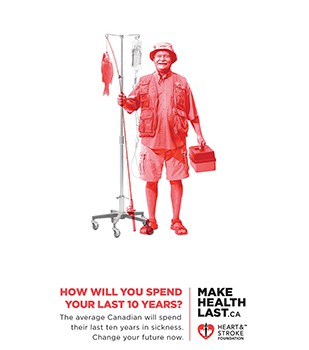 Not-for-Profit
Situation Analysis » Canadians had grown deeply apathetic towards heart disease and stroke, seeing it as an "old white man's disease." So in 2011, the Heart and Stroke Foundation launched "Make Death Wait" – a provocative campaign pointing out that heart disease and stroke takes one in three lives before their time. For 2012/13 the challenge was to build on this.
Strategy & Insight » Research showed boomers did not see "growing old" as a process of decline, but a chance to explore passions, adventure and for family time. But on average Canadians will spend their last ten years in sickness and disease. So the rose-coloured future would not materialize if behaviour did not change. Fortunately, 80% of heart disease and stroke is preventable. People had to assess their risk, educate themselves and take action with the right tools.
Execution » The campaign launched in December 2011, disseminating the "last ten years" reality and pushing to a health education microsite – Makehealthlast.ca. This housed a seven-minute risk questionnaire, with corresponding tips and tools for healthy behaviour. All told, the campaign involved TV, print, radio, OOH, media partnerships, earned and owned media and PR.
Results » Through August 2013 the campaign attracted 500,000 people to Makehealthlast.ca, versus a 200,000 objective. In line with this, risk assessments were 130,000 against a target of 70,000.
Cause & Effect » The campaign delivered 650 million media impressions, and improved the image of HSF with 61% of Canadians. There was also no other effort in market to have caused the results.
Credits:
Client: The Heart & Stroke Foundation of Canada
CMO: Geoff Craig
Campaign lead: Kelly McCarten
Senior marketing manager: Joanne Cullen
Agency: Lowe Roche
ECD: Sean Ohlenkamp
ADs: JP Gravina, Matthew Camara
CWs: Simon Craig, Jeremy Richard, Jordan Gabriel, Martin Rivard, Odile Coiteux
Account director: Laura Davis
Print producer: Beth MacKinnon
Broadcast producer: Sandy Cole
Interactive producer: Andrea Page
Technical director: Ralph Reefke