CASSIES Bronze: Jackson-Triggs has a wine for that
To take on a new crop of competitors, the wine brand refreshes its image with a campaign about relatable moments.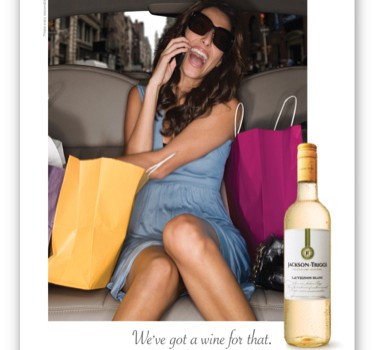 Packaged Goods – Beverage
Situation Analysis » In early 2011 the wine category in Canada was expanding, but Jackson-Triggs was struggling. The growth was fuelled by hundreds of new brands with bright, playful names like Cupcake Vineyards and Girls' Night Out. In comparison JT appeared dusty, and something had to be done.
Strategy & Insight » Research uncovered JT users had an aversion to pretense. So instead of the clichéd occasions of typical wine advertising, creative would take a much broader approach. No matter what mood you're in – "We've got a wine for that."
Execution » TV launched in November 2011 with "Lights," which romanced the situations where lights give us those relatable moments – sunrises, birthday candles, fireworks and so on. This was followed in April 2012 with "Shoes" – this time showing footprints in the sand, feet swishing in a swimming pool, etc. Print and digital followed the same pattern, rounded out by a significant push in social media and PR.
Results » Seven months into the campaign sales were up 17% nationally, and in April 2013, sales were up a further 29% versus year ago.
Cause & Effect » All communication and image metrics were significantly improved with a corresponding increase in claimed consumption. Spending, pricing and distribution were all on a par with previous years.
Credits:
Client: Constellation Brands Canada
SVP marketing: Steve Bolliger
VPs marketing, domestic wine: Diana Pawlik, Maria Melo-Boone
Marketing manager, Jackson-Triggs: Rich Fortin
Marketing director, lifestyle wines: Andres Rios
Agency: Bensimon Byrne
President: Jack Bensimon
CD: Joseph Bonnici
ACDs: Hayes Steinberg, Chris Harrison
Director of operations: James Grant
Group account director: Zeeshan Hussain
Business lead: Wendy Doan
Media director: Thomas Shadoff
Associate media director: Alex Gillespie
Director of production services: Michelle Pilling
Managing director, Narrative PR: Amanda Alvaro
Account director, Narrative PR: Laura Serra