CASSIES Bronze: Lake of Bays expands its footprint
The brewing company rebrands to branch out from its Muskoka roots.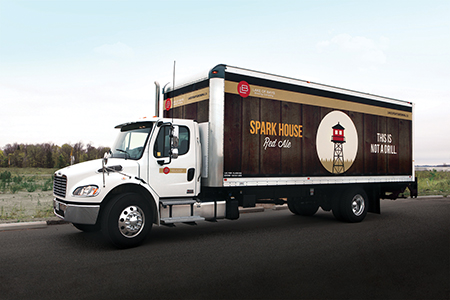 Packaged Goods – Beverage
Situation Analysis » The craft beer market in Ontario is booming, with successful brands typically using specialized ingredients from small suppliers in a locally crafted brew. Lake of Bays Brewing Company (LBB) is a small, young company with sales initially focused where the company began – in Baysville, Muskoka. But to succeed long-term, the company had to expand beyond this original area.
Strategy & Insight » To generate broader appeal, the brand needed a whole new look, feel and backstory. It had to have roots, but also be different from Muskoka Brewery, which was capitalizing on the gentrification of the area by Torontonians. From this came the decision to celebrate the authentic, industrious, inspiring spirit of the North.
Execution » The rebrand began in July 2012 by renaming all of the Lake of Bays brands, and redesigning their labels. At the same time billboards and radio spots spread the message, as did redesigned delivery trucks and a host of promotional materials. The website was also completely redesigned and the Beerfinder.ca app used GPS to help people find the closest place to buy Lake of Bays beer.
Results » The objective was to expand beyond the original Baysville area, and the available locations carrying Lake of Bays brands doubled. Sales for the first year were also up 72% against a 50% objective.
Cause & Effect » The business results and rebranding activity were clearly correlated. Meanwhile, spending, for a beer brand, was low. Pricing was also not a factor, and there were no other forces in the market to cause the results.
Credits:
Client: Lake of Bays Brewing Company
President: Darren Smith
Marketing manager: Tamsen Tillson
Agency: We Are Tonic
CEO: Anita Dong
CD: David Sylvestre
AD: Jamie Brand
CWs: Mike Appleby, Tim Glenn
Designer: Alex Ferreira
Account executive: Brodie McNabb