CASSIES Bronze: Mountain Dew keeps the momentum going
The PepsiCo brand asked fans to choose which flavour survives to stir up interest, and increase share.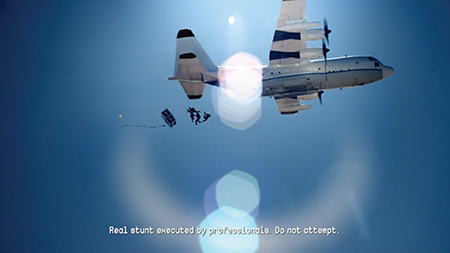 Events, Seasonal & Short-Term
Situation Analysis » In 2012, Mountain Dew got the attention of Canadian millennials with a dramatic "Wrecking Ball" TV spot, new packaging, product sampling and a high-energy launch event. National dollar share increased by a full point – from 0.6 to 1.6 – and for 2013, the goal was to build on this.
Strategy & Insight » Mountain Dew is a niche brand in Canada compared to the U.S. Until 2012, Dew lacked support for several years in Canada. So after the launch of a Canadian Facebook fan page in early 2012, requests for U.S. flavours flooded in, which sparked the decision to let fans decide the next new flavour.
Execution » In the launch TV ad, four U.S. flavours were pushed out of a plane. Before they hit the ground, fans were prompted to vote for a winner. Every vote offered a chance to win $50,000 and daily prizes. A related contest also asked fans to create a video showing the new flavour they liked most for a chance to win 1% of its net sales for two years. The winning flavour was revealed in a follow-up TV spot. The plan launched in April 2013, and used TV, pre-roll, Facebook and mobile banners, in-game ads, ads in Xbox, flash banners and search engine advertising.
Results » Year-to-date dollar share as of June 2013 is 2.3 points, a 44% improvement on 2012.
Cause & Effect » Responses were well above norms for all communication KPIs (figures were supplied) and there were no other major marketing variables.
Credits:
Client: PepsiCo Beverages Canada
VP marketing, PepsiCo: Sassan Jahan
Director of marketing, PepsiCo: Ryan Collis
Marketing manager, Mountain Dew: Ronit Soroksky
Assistant marketing manager, Mountain Dew: Alexandra Collins
Agency: BBDO Toronto
SVPs, ECDs: Peter Ignazi, Carlos Moreno
Associate CD: Jaimes Zentil
ADs: Craig Brandon, Danny Bang
CW: Johnny Pavacic
Agency producer: Beatrice Bodogh
SVP, executive managing director: Paul Reilly
VP, account director: Jennifer Jones
Account supervisor: Tania Montemarano
Group digital director: Mark Carpenter
Director of digital strategy: Nicole Polivka
Account coordinator: Hailey Scott