CASSIES Bronze: Saving Joe Boxer
The men's underwear brand changes its image to save itself from extinction in its largest retailer, Hudson's Bay.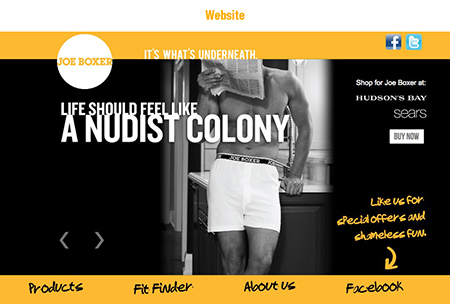 Off to a Good Start
Situation Analysis » The Bay was undergoing massive change. As it moved from a department store to a premium destination, it was re-evaluating the underwear brands it carried. Joe Boxer was at risk of being de-listed from its largest retailer, which could lead to extinction. How could Joe Boxer make its fun novelty underwear more contemporary and premium for The Bay, without losing existing customers?
Strategy & Insight » Brands like Diesel, Emporio Armani and Hugo Boss stood for the values The Bay's new premium target aspired to: style, fashion, power and masculinity. And they could command a higher price. Joe Boxer needed to separate itself from the less expensive comfort brands, but it couldn't be something it was not. The competitors all portrayed the perfect man with a six-pack – not real life. Most men want to feel comfortable with who they are, as they are. From this came the idea for a total rebrand.
Execution » The rebrand involved packaging, in-store display, POS and a website. It ran from Sept. 2012 to March 2013. Copy acknowledged that from time to time a man has to wear a veneer so that he can fill the role that is expected of him. But underneath that layer is the actual man. The tonality was confident, comfortable and self-assured, and the message was summed up in the tagline, "It's what's underneath." The Bay loved it, and customers did too.
Results » The Bay decided to keep Joe Boxer on its shelves and this led to a 47% unit sales increase in the first three months of the re-launch, with a sustained increase of 32% for the six-month business results period.
Cause & Effect » All internal and external factors remained constant – spend, price vs. competitors, distribution, promotions and category environment. The only variable was the rebrand.
Credits:
Client: Caulfeild Apparel Group
President: Mike Purkis
Brand manager: Stephanie Veltmann
VP sales and marketing: Murray Blair
Agency: Red Lion
President, CCO, CW: Brett Channer
Managing partner, CSO: John Schofield
CD: Dan Workman
AD: Zack Vitiello
Senior CW: Dave Savoie
CWs: Sarah Jones, Dave Pigeon