CASSIES Bronze: Subaru BRZ heats up
Subaru uses a campaign that shows the BRZ melting everything in its path to entice new potential drivers of the sports car.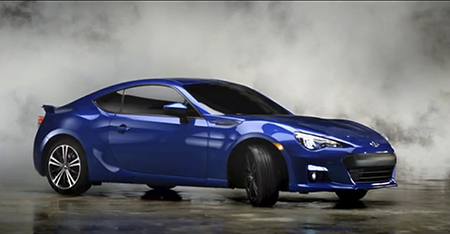 Automotive and DIY
Best Launch
Situation Analysis » Subaru's first foray into the sports car segment with its 2013 BRZ was complicated by its identical twin, the Toyota Scion FR-S – the offspring of a joint venture between Toyota and Subaru, with only small differences between them. The FR-S also had the budget for an extensive launch, while the BRZ had the smallest budget for any Subaru new model launch in recent years.
Strategy & Insight » The target was young, tech-savvy car enthusiasts who want looks and performance. The advertising had to find a way to say that with the BRZ you have one truly hot car.
Execution » The campaign showed that the car scorches, burns and melts what's in its path. A 60-second online video depicts an underground garage where, in extreme-slow motion, the BRZ melts everything, before sprinklers suddenly rain water. The campaign began in June 2012 and continued with print, online, social media and PR, and street installations in Toronto and Montreal.
Results » Subaru was allocated 500 vehicles for July to December 2012 and sold these out well ahead of schedule. For January to June 2013, it sold 601 units, 20% above the 500 objective. The campaign also created quality leads, with dealership traffic +43% year-over-year, versus a +20% target.
Cause & Effect » The campaign exploded through Twitter, Facebook and other social media creating more than 838 million impressions. The launch video also amassed more than 587,000 views on YouTube. And based on superior sales versus the FR-S, Subaru's allocation of production was more than doubled for the subsequent model year.
Credits:
Client: Subaru Canada
VP, product planning & marketing: Ted Lalka
Director, marketing: Geoff Craig
Advertising manager: Tara Willis
Assistant manager, advertising: Curtis Lang
Agency: DDB Canada
Co-CDs: Todd Mackie, Denise Rossetto
SVP, business unit director: Michael Davidson
ACDs: Paul Riss, Adam Bailey
AD: Jorgen Stovne
CW: RJ Esfandiyari
SVP of strategic planning: Tony Johnstone
Account director: Peter Brough
Account supervisor: Julia Morris
Account executive: Lindy Scott
Producer: Ken Rodger
Digital producer: Chris Webden
Account manager, PR: James Loftus
Senior consultant: Greg Vallentin
Senior director, social media: Ed Lee
Senior cultivator, social media: Melissa Smich
VP, director of print & graphic services, Ad Rules: Rose-Ella Morrison
Mac production artists, Ad Rules: Kirk Broadhead, Jason Taylor
Studio manager, Ad Rules: Jane Davies
Client communication director, OMD: Michelle Jairam
Group director of strategy, OMD: Jennifer Thompson
Strategy supervisor, OMD: Tyler Gain
Strategist, OMD: Steve Gramlich,
Production: Radke Films
Editor: Bijjou Editorial
Retoucher: Steve Pinter
Music: "Execute" by Excision
Post Production: Common Good