CASSIES Bronze: Subaru rallies families
The car co repositions its Forester SUV by appealing to its target's sporty side.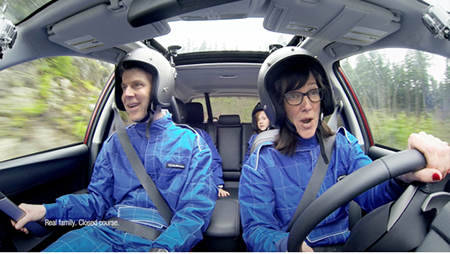 Events, Seasonal & Short-Term
Situation Analysis » With a 4% market share, Subaru is a small player in the compact-SUV category, and it didn't help that the Forester was seen as boxy, outdated and even ugly – a shadow that lingered on from earlier designs. Also, with a 2.1% share of voice, Subaru had a tough time getting noticed, so something special was needed for the 2014 model-year launch.
Strategy & Insight » The target was 30- to 49-year-old urban couples transitioning between life stages. They rejected vans and wagons but wanted the practical benefits of an SUV. Research showed the term "sport utility vehicle" had been watered down and lacked the sport element. Forester would put it back into SUV.
Execution » Subaru has a long-standing rally heritage, and this triggered the big idea. Families would sign up for a chance to compete in the first-ever Subaru Forester Family Rally. Their exploits would be captured in footage that would then be translated into television, print, POS, radio, online and social media. All communication directed to a microsite where they could learn more about the Forester, and sign up for a test drive. The campaign began with a soft-launch in print in March 2013, and the full national campaign launched in April.
Results » Forester sales for March to May 2013 were 27% above target and 55% above year-ago. This helped lift the overall Subaru brand to the best spring sales period ever for April and May.
Cause & Effect » There was a direct relationship between the timing of the Forester campaign and sales results, with no other variables in play. In particular, Subaru maintained its full margin price and offered no special incentives or discounts.
Credits:
Client: Subaru Canada
VP, product planning & marketing: Ted Lalka
Director, marketing: Geoff Craig
Advertising manager: Tara Willis
Assistant manager, advertising: Curtis Lang
Agency: DDB Canada
Co-CDs: Todd Mackie & Denise Rossetto
SVP, business unit director: Michael Davidson
SVP, strategic planning: Tony Johnstone
Senior strategist: Sandra Moretti
Strategist: Kevin McHugh
AD: Pete Ross
CWs: Allan Topol, Mark Biernacki
Account directors: Peter Brough, Scott Barr
Account supervisor: Julia Morris
Account executive: Lindy Scott
Account manager, public relations: James Loftus
Senior consultant: Greg Vallentin
Senior director, social media: Ed Lee
Senior cultivator, social media: Melissa Smich
VP, director of print & graphic services, Ad Rules: Rose-Ella Morrison
Mac production artists, Ad Rules: Kirk Broadhead, Jason Taylor
Studio manager, Ad Rules: Jane Davies
Client communication director, OMD: Michelle Jairam
Group director of strategy, OMD: Jennifer Thompson
Strategy supervisor, OMD: Tyler Gain
Strategist, OMD: Steve Gramlich
Director of Broadcast Production: Andrew Schulze
Producer: Stef Fabich
Designer: Jan Walczak
Information architects: Dale McRae, Daniel Wiseman
Digital production manager: Neem Ba Ha
VP, integrated operations & production: Cathy Kim
Senior interface developer: Andrej Simeonov
Editor: Jonathan Kirschenbaum
Photographer/retoucher: Frank Hoedl
Retouchers: Daniel Essegern, Michael McDonald
French Partners: Groupe Rinaldi
Creative: Jean-Charles Bullot
President: Maurice Rinaldi
Account executive: Tanya Fouleman
Event management: Vehicles Dynamics Group
Production: OPC & Family Style
Director: Chris Woods & GoodDearGood
Audio house: Grayson Matthews
Casting agency: Jigsaw Casting
Post-production company: Posterboy Edit
Online Editor: AXYZ
Colourist: Alter Ego