CASSIES Gold: Iögo's big debut
The yogurt brand, created to save its parent company, had a strong launch thanks to an eye-catching design and campaign.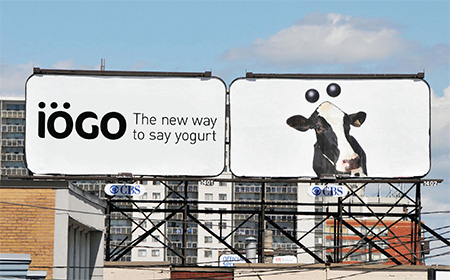 Events, Seasonal & Short-Term
Situation Analysis » Imagine, out of the blue, you are staring at what could be a 95% drop in business. That was what faced Ultima Foods when it learned its Yoplait licence with General Mills and dairy co-operative Sodiaal was not going to be renewed. Consumers would see no changes at the shelf, but for Ultima, the effect was potentially devastating. How do you protect a business that employs 750 people, has annual revenue of $330 million and a number two market share close to 30%?
Strategy & Insight » The answer was to develop and launch a major new yogurt brand. The product lineup would offer more than 40 flavours, all gelatin-free with no artificial flavours or colours. Over and above this, the brand would have a distinct personality. It would be rooted in the fact that Ultima Foods – unlike its multinational competitors – is owned by two dairy farmer co-operatives. So, with a portfolio of innovative products, a contemporary name, appetizing packaging and a desire to break the codes in the category, Iögo set out to become the new way to say yogurt.
Execution » The plan launched Aug. 12, 2012. Graphically, the Iögo name and the umlaut (two dots) gave the brand a unique allure – those dots became a branding icon across all materials. And tonally, the creative gave Iögo a leadership aura across multiple channels, featuring TV and out-of-home teasers, a launch TV 60-second spot, outdoor, home page takeovers on the web, social media, magazine and newspaper ads, and product-specific 30-second TV spots.
Results » Sales took off, with Iögo hitting a 9.6% market share after only three months. To put this in context, Activia (which had a famously successful launch in 2004) took two years to hit 8%.
Cause & Effect » After three months, Iögo had national awareness of 74% among yogurt consumers – far beyond the industry norm of 32%. Motivation scores were more than double normal levels. Facebook reached 40,000 fans. And Nielsen data showed the sales pattern perfectly matched the timing of advertising support.
Credits:
Client: Ultima Foods
VP marketing: Lucie Rémillard
Brand group directors: Chantale Sévigny, Hélène Boidin
Brand managers: Geneviève Bibeau, Lynda Lamontagne
Director, innovation and process: Nathalie Gamache
Director, marketing research: Anita Lepage
Director of PR and consumer relations: Diane Jubinville
Agency: DentsuBos
VP, brand strategy: Claude Larin
VPs, creative direction: Roger Gariépy, Hugo Léger
CW: Ron Caplan
ADs: Samatha Hull, Jeffery Rosenberg
Designers: Camille Forget, Sarah Gervais-Houle
VP, client services: Francois Mailloux
Account director: Marlène Chapelain
VP, media: Frederic Rondeau,
Media planners: Véronik L'heureux, Alex Guimond
Media buyers: Rebecca Rodrigues, Renée Petranic, David Wicken