CASSIES Gold: Kokanee makes a movie
The beer brand's The Movie Out Here picks up yet another accolade for helping to turn sales around in the West.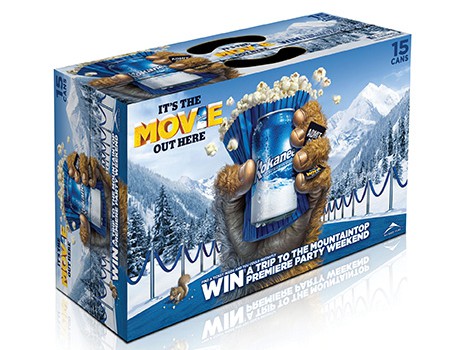 Packaged Goods – Beverage
Best Integrated Program
Situation Analysis » Kokanee, long established as "the beer out here" in Western Canada, faced many challenges coming into 2012. Its mountain refreshment image and western heritage were not as revered as they once were. And younger beer drinkers, particularly in B.C., were increasingly attracted to the value segment. As a result, share was declining at 11%. Kokanee was also working with decreased media spend – down 70% from its heyday in 2007 and 14% versus 2011. The share decline had to be stopped – with a budget that paled in comparison to many competitors. (Share of voice for 2012 was expected to be 3%, against a market share of 8.8 %.)
Strategy & Insight » Kokanee had the long-running narrative of the sasquatch in its favour. But how could the story be served up in a new way? The target group comprises avid movie-goers and those open to crowd-sourcing.  They are also extremely open to branded content – as long as they're entertained. So the answer was make a movie.
Execution » Starting in April 2012, this movie – a 90-minute comedy –engaged consumers at every point of contact (TV, cinema, online, outdoor, on-premise, retail and packaging), encouraging people to offer ideas for the storyline, location, music tracks, props and production. Thirty-second TV spots announced the project, along with OOH and related promotional materials. All media directed to a microsite, where most of the engagement took place, which was supported by PR from major news and entertainment publications.
The movie itself featured an uptight Toronto lawyer, who goes back to his hometown of Fernie B.C. and helps save his friend's business. It's a western Canadian adventure, complete with sasquatch sightings, bikini-clad Glacier Girls and the Kokanee Spoke-Rangers – targeting young adult males.
Results » The 11% decline that preceded this initiative was approximately equivalent to a $25 million loss at retail. After the movie campaign launched, the brand reported a 1.18% lift in the West, a significant turnaround.
Cause & Effect » All of Kokanee's activity from April 2012 to March 2013 was focused on the movie and its promotion. Other measures show that the effort made its mark. The statement "Is a brand western Canadians can be proud of" increased 17% and overall brand health held steady for the first time in five years. The microsite also had more than 400,000 visits, and fan engagement on Facebook increased by 1,000%.
Credits:
Client: Labatt Breweries of Canada
VP marketing: Jorn Socquet
Marketing director, Budweiser, Core and Value: Kyle Norrington
Senior marketing manager, Core and Value Brands: Amy Rawlinson
Assistant marketing manager, Core and Value Brands: Mieko Nagao
Counsel, Labatt Breweries of Canada: Matthew Lawless
Agency: Grip Limited
CDs: Scott Dube, Randy Stein
AD: Catherine Allen
CW: Ian Simpson
Director: David Hicks
Editor: Griff Henderson
Agency producer: Laurie Maxwell
Interactive ADs: Joel Holtby, Hiten Patel, Ryan Dzur
Designer: Andy Slater
Account services: Martin McClorey, John Miller, Brendon Sargent, Matt Yip, Eric Vieira, Sarah Henderson, Adam Luck, Aaron Nemtean
Interactive developers: Dylan Dempsey, Justin Krinke, Zack Ginies, Hanna Chen
Studio: Teegan Skals, Rob Wigington, AJ Merrick, Patrick Robinson, Jody Wagner, Steve Errett, Nico Mexner, Matt Maian
Story by: Catharine Allen, Ian Simpson, Matthew Bass
Screenplay by: David Chiavegato, Rich Pryce-Jones, Matthew Bass
Post production: Section Eight, Poster Boy, Finale, Notch, Axys, Crush
Audio production: Post Modern, Jingle Punks
Movie pitle: The Juggernaut
DOP: Samy Inayeh
Interactive producer: Todd Harrison
Interactive writer: Naeem Ghafari
Production company: Infinity Films