CASSIES Gold: Koodo's branding keeps on winning
Thanks to quirky campaigns and memorable characters, the brand has seem consistent growth since its launch.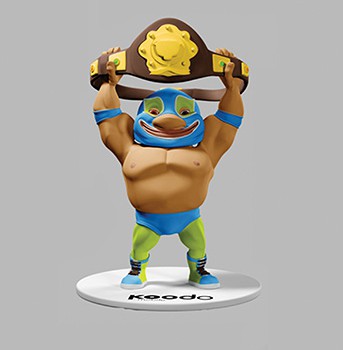 Sustained Success
Situation Analysis » A decade after the launch of mobile phones, the landscape was dominated by three major players. Against this backdrop, Koodo saw the opportunity to carve out a unique position. Some wireless brands had complicated plans and restrictive contracts, so those looking for basic service were being overlooked. Koodo entered the scene with its value-based offering in 2008, but it wasn't long before new value players emerged. The big three were also finding ways to define value, so Koodo's competitive advantage couldn't hinge on product or price alone.
Strategy & Insight » Research showed that Generation Y (aged 21 to 30) has been ideal for Koodo's stripped-down approach. With all the options and fine print, they've found it impossible to figure out who had the best value. They crave a mobile service that's fair and simple. In response to this, Koodo kept to an unwavering brand promise for five years, while consistently bringing the brand to life in fun, surprising and irreverent ways. It has also delivered brand awareness, thanks to a distinctive communication strategy: Be straightforward. Be fun. Be ballsy.
Execution » TV, radio, outdoor, newspaper, in store, digital and social have been the go-to media, with creative evolving through four phases – "design vocabulary"; "fat-free mobility"; "language of savings"; and "El Tabador." "Design vocabulary" established the distinctive Koodo name and look via eye-catching visuals, bright colours and bold headlines. "Fat-free mobility" tied the Koodo experience to the workout craze of the '80s and '90s. "Language of savings" kept the message fresh and current in year two. And in year three and beyond, "El Tabador" has been the consumer's champion.
Results » Koodo had the most successful postpaid-wireless launch in Canadian history with double-digit subscriber growth every year for five years.
Cause & Effect » In terms of brand awareness, 89% of the target recalled the name after the first year. At the end of 2010, Koodo became the youngest brand ever to be named Brand of the Year by strategy magazine. [ed note: Iögo beat Koodo for this title in 2013 at 18 months.] Meanwhile, ongoing ad tracking has shown consistent increases in purchase consideration, and this has directly correlated to market performance.
Credits:
Client: Koodo Mobile
Chief Koodo Officer: Kevin Banderk
VP, Marketing Communications: Lise Doucet
Manager, Marketing Communications : Dragana Simao
Manager, Digital Marketing Communications: Nathan Roth
Directrice générale, communications et marketing: Jennifer Robertson
Agency: Taxi Canada
CCD: Steve Mykolyn
ECD: Lance Martin
French CDs: Patrick Chaubet, Alex Gadois
Design CD: Dave Watson
ADs: Jeff MacEachern, Craig Ferguson, Mike Lee, Jordan Dunlop, Adam Thur, Lance Vinning, Troy McGuinness, Leo Tsalkos, Amber Strahl, Nuno Ferreira, Johnnie Ingram, Maya Boriskina, Virginia Magaletta, Shahin Edalati, Alison Garnett, Michael Morton, Mike Blanch, Peter Gomes
CWs: Mike Blackmore, Tal Wagman, Alexis Bronstorph, Marko Pandza, Rica Eckersley, Irfan Khan, Jess Willis, Jordan Doucette, Alex Furrer, Ryan Grossman, Simon Gouache, Alanna Nathanson, Josianne Cossette, Tanya Henri, Etienne Theberge, Emelie Larocque
Group account directors: Caleb Goodman, Natalie Calderon
Account directors: Daniel Shearer, Pascale St-Amand
Account managers: Katie Trainor, Steve Waugh, Sherrie Reynolds, Kirstin Bojanowski, Krista Cressman, Shelly Ong, Kimberley French, Julie MacGregor, Carole Nantel, Justine Trudeau
Designers: Mike Blain, Kammy Singh, Tyler Smith, Leo Tsalkos
Broadcast producers: Jennifer Cursio, Ben Sharpe, Brie Gowans, Eugene Marchio, Anick Rozon
Print producers: Tara Greguric, Charlene Leong, Jen Shapiro, Estella Tolentino
Mac artists: Brian Coughlin, Dave Kinsella, Lorin Altomonte, Pam Cohen, Dayle Sheward, Susan Carswell, Dwayne-Mark Aranha, Nige Harvey
Retouchers: Alex Chung, Andrew O'Driscoll, Nabil Elsaadi, Stephen Pryce, Whitney Taylor
Interactive producers: Kevin Saffer, Gaetano Carpino, Patrick Elia, Jennifer Simpson, Joyce King, Hanna Bratt, Tasha Dean, Jennifer Law, David Isaac
Interactive programmers: Matt Burtch, Bob Blevins, Ryan Johnson, Carson Shold, Jeff Vermeersch
Digital strategists: Cory Pelletier, Nicole Polivka, Zach Klein
Media agencies: Media Experts, Cossette Media
Media planners: Richard Ivey, Flavia D'Orazio, Tracy Ibsen, Giosi Nizzola, Karel Wegert, Patricia Ruffolo, Nick Rossignol, Pina Cuffar, Lauren Smith, Gabriel McCrae, Charlaine St-Amand, Dustin Turner, Ryan Langsford
Production houses: BENT Image Lab, Avion Films, HeadGear Animation, School Editing, RightSleeve