CASSIES Silver: Chocolate milk gets a makeover in Quebec
The Fédération des producteurs de lait du Québec positions the beverage as post-workout fuel to increase sales for the past five years.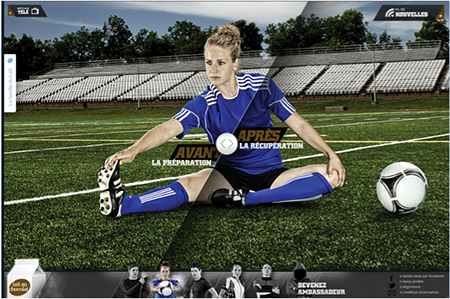 Sustained Success
Situation Analysis » Chocolate milk was in a slump. It was being upstaged by newer, flashier competitors, and because of its association with childhood, adolescents saw it as uncool. For decades, chocolate milk in Quebec had been positioned as a treat, and consumed as a snack. This would have to change.
Strategy & Insight » Two U.S. studies found chocolate milk to be the ideal recovery drink after a workout. It has the exact ratio of carbohydrate to protein that the body needs for quick muscle regeneration. The challenge was getting this message out. A pre-campaign study uncovered gym instructors and nutritionists would be the most credible source of news, which triggered an unconventional decision – to make word of mouth the main launch medium. The first phase of the campaign, from 2009 to 2011, focused on scientific proof delivered by trainers and nutritionists, in places like fitness centres and sports venues. In 2012, this evolved to testimonials from young athletes.
Execution »  The campaign focused on training the coaches and advisors at Énergie Cardio, Quebec's largest network of fitness centres. This was augmented by messaging on posters, vending machines, TV and a relaunched website. In 2012, the "Young Ambassadors" program launched, along with sampling, a revamped Facebook page and extensive sponsorships encouraging kids and teens to become more active. The ambassadors were five up-and-coming athletes, each from a different field, profiled in a frequently-run 60-second video on French-language sports channel RDS. Meanwhile, an intense "Before and After" 30-second TV spot showed how to prepare for, and recover from, physical activity.
Results » Sales have been rising since the onset of the campaign: 4.2% in 2009, 0.5% in 2010, 8.1% in 2011 and 11.3% in 2012. In addition, according to the June 1, 2013 ACNielsen report, past-52-week sales were at a record +13.1%.
Cause & Effect » Dieticians, initially reluctant, are recommending it as part of a sports diet in TV appearances, blogs and websites. Ipsos post-test research for the "Before and After" campaign showed 97% agreed that "chocolate milk is a post-recovery aid for training, exercise or sport," while 84% agreed the campaign "improved their opinion of chocolate milk."
Credits:
Client: Fédération des producteurs de lait du Québec
Marketing director: Nicole Dubé
Agency: Nolin BBDO
Co-director general and CCO: Stéphane Charier
Co-director general and CSO: Geneviève Grenier
VP, project management: Lyne Clermont