CASSIES Silver: Home Depot is 'beau' in Quebec
The home improvement retailer faced tough compettion in the province and increased share thanks to a made-for-Quebec tagline and campaign.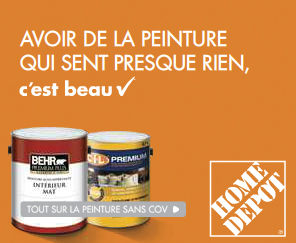 Sustained Success
Situation Analysis » In the years after its 2000 Quebec launch, Home Depot struggled to gain traction against Rona and Réno-Depôt – number one and two in the market, respectively. Rona's 2003 acquisition of Réno-Dépôt made it even harder for Home Depot to establish a competitive edge. And given Quebec's tendency to favour Quebecois businesses, Home Depot could not rely on the reputation it had built in the rest of Canada. So starting in 2007, the brand launched a Quebec-specific campaign.
Strategy & Insight » Contrary to all other countries where the Home Depot tagline revolves around know-how, the Quebec tagline became "C'est beau." It literally means "it's beautiful" but can also be used to say "it's fine. It's alright. Everything is taken care of. It's all good." The associated campaign evolved over the next several years, based on selection and choice (a Home Depot point of difference) and the realization that women are far more involved in renovation projects than had previously been thought. However, there was still an American feel to the brand.
Execution » These findings led to a new creative storyline: guiding the smart shopper through a world of choice. Quebec celebrity Valérie Blais was the smart shopper. She injected humour, while increasing the Quebec feel, and appealing to women without alienating men. This was integrated through television, radio, billboards, flyers, magazines, in store, community programs, web banners and the company website.
Results » Over the past five years, Home Depot's share has steadily increased. In 2011, it took over the number two spot from Réno-Dépôt, and has maintained that position since. What was once a struggling market is now its fastest growing. Store visits, brand consideration, awareness and identification have all correspondingly increased. (Numbers were supplied.)
Cause & Effect » All the results were achieved without any significant changes in the marketing and advertising mix.
Credits:
Client: Home Depot
VP, marketing & e-commerce: Peg Hunter
Director, advertising: Gaye Mandel
Senior manager, advertising, integration and media: Russ Sunderji
Senior manager, marketing strategy: Sonia Draper
Regional marketing manager: Elise Vaillancourt
Agency: Cossette
CDs: Anne-Claude Chénier, Anik Ouellet
VP, client leader: Pascal Chassé
VP, planning: Florence Girod
Group account director: Jean-Hugo Filion
Account director: Sophie Couvrette
Account manager: Alexandra Hofmannear