CASSIES Silver: Rouge FM transforms itself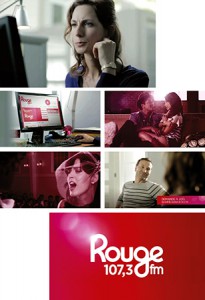 Off to a Good Start
Best Launch
Situation Analysis » At one time RockDétente was the number one Quebec radio station for women 25 to 64, but despite repeated attempts to get it back on track, it was losing share drastically. Changes in musical content, personalities and marketing hadn't worked. In fact, as competitor Rythme FM forged ahead, RockDétente was getting the handle "Auntie Rock Radio."
Strategy & Insight » RockDétente needed a complete makeover. Extensive research found women wanted their radio station to be varied, engaging, stimulating, authentic, accessible and positive. Out of this came the idea for a new brand name: Rouge FM. Why Rouge? Because red is the colour of passion, love and vitality.
Execution » To maximize effect, the decision was made to change the brand on a single day across all Rouge stations in Quebec. This triggered a media blitz involving visual identity, television, radio, outdoor, online, PR and business-to-business efforts. Creative, not surprisingly, was permeated by the colour red, while radio featured a musical anthem created specifically for the relaunch.
Results » The goal to turn the province-wide business around and increase share in Montreal by five points (a 25% upswing) was achieved, while also attracting 10% more listeners.
Cause & Effect » The media budget increased about $200,000 from historical levels. Other than this, there were no changes besides the relaunch effort.
Credits:
Client: Bell Media (formerly Astral Media)
Directrice principale communications-marketing: Chloe Boissonnault
Graphiste: Christine Cade
Chargée de projets communications-marketing: Frédérique Blaive
Adjointe aux communications-marketing: Isabelle Royal
Chargée de projets, communications et marketing, NRJ – Canal D et Investigation: Isabelle Bergeron
Producteur exécutif réseau NRJ et Rouge, directeur des opérations Astral Radio Montréal: Martin Tremblay
Directeur des promotions, NRJ et Rouge FM: Sylvain Légaré
Agency: Bleublancrouge
Tags: Bell Media, Bleublancrouge, CASSIES, Radio, Rouge fm, silver