CASSIES Silver: SpongeTowels soaks up sales growth
Thanks to a campaign starring the "Sponge Pockets" characters, the brand has seen major growth in the last six and a half years.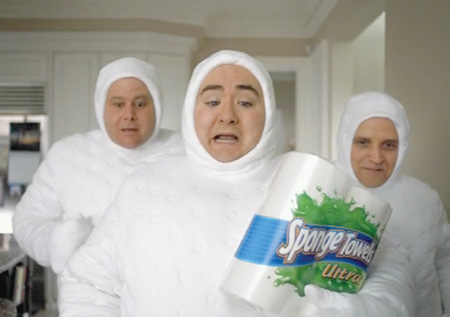 Sustained Success
Situation Analysis » In 2006 the branded paper towel category in English Canada had P&G's Bounty in the lead with a 24% share, followed by SpongeTowels at number two with 13%. Bounty was the gold standard; the result of a good product, and years of side-by-side ad demonstrations. It also had an overwhelming lead in ad support, with Canadian spending and U.S. spill combining to deliver a 60 to 65% share of voice. But there was a chink in Bounty's armour. Despite its dominant lead in perceptions, unbranded consumer testing showed that SpongeTowels Ultra outperformed Bounty on a number of measures, including overall performance.
Strategy & Insight » The name SpongeTowels was inspired by the sponge pockets created by the embossing pattern on the product. These pockets signalled absorbency, which was a strength for SpongeTowels based on consumer testing. It was also a point of difference versus the "quicker picker-upper," which for the most part focused on strength and speed. Those little pockets, properly leveraged, could give the brand a competitive edge.
Execution » The campaign, which brought the Sponge Pockets to life as cuddly ad icons, launched in fall 2006. The first 30-second ad called "Jug" set the stage, and there have been multiple 30- and 15-second extensions since. This continously new creative has kept the advertising entertaining, fresh and on message year after year. Television has been the main medium for its demonstration ability and to keep a relatively small budget focused.
Results » In the six-and-a-half years since the campaign launch, volume sales are up 52% in a flat category. Share, correspondingly, has leapt to 19% from 13%, despite the arrival of Cascades and Kimberly-Clark as new players in the market. These gains equate to a 60% increase in dollar volume, delivering an incremental $21.5 million in retail sales.
Cause & Effect » Over the course of the campaign, all KPIs have moved ahead significantly – ad recall, share of mind, brand link, association of the Sponge Pockets with the SpongeTowels brand, and perceptions versus Bounty. Other than this, there have been no extraordinary changes in product, pricing, distribution, promotion or spending.
Credits:
Client: Kruger Products
Corporate VP marketing: Nancy Marcus
Corporate marketing director: Stephen Blythe
Category director – paper towel: Wendy Mommersteeg
Marketing manager – paper towel: Humberto Baruzzi
Agency: John St.
ECDs: Angus Tucker, Stephen Jurisic
ADs: Kyle Lamb, Rob Trickey, Stuart Campbell
CWs: Kurt Mills, Neil Shapiro, Mia Thomsett
Strategic planning director: Emily Bain
Senior strategic planners: Megan Towers, Sarah Henderson
Team leaders: Heather Crawley, Rena Bast
Account director: Ali Reid
Account supervisor: Madison Papple
Account coordinator: Laura Rodriguez
Executive broadcast producer: Michelle Orlando
Producer: Dale Giffen