CASSIES Silver: Toronto Jewish Film Festival flips perception
The fest highlights the "jewishness" of films to appeal to a younger crowd.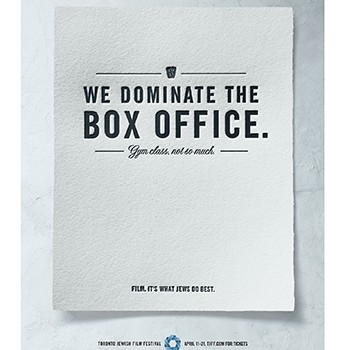 Events, Seasonal & Short-Term
Situation Analysis » The Toronto Jewish Film Festival (TJFF) evoked thoughts of heavy, depressing movies about the Jewish experience. The festival had an aging audience (almost exclusively Jewish) and dwindling ticket sales. Younger film-goers flocked to events like the Toronto International Film Festival, but showed no interest in the TJFF. But perceptions were wrong. The TJFF showcases films ranging from dramas to comedies, romances to gangster flicks, and blockbusters to small independent gems. So for the April 2013 festival, the goal was to turn sales around, and attract a younger, more diverse crowd – all without any increase in spending.
Strategy & Insight » Non-Jewish 25- to 45-year-olds who attend film festivals at least once a year figured they knew what the TJFF was all about, and concluded it was not for them. However, Jews have had a major role in delivering great and often hilarious films, whether as writers, producers, directors or actors. So why would a festival celebrating their talents be anything but fun and entertaining? This led to the campaign idea: "Film. It's what Jews do best."
Execution » The launch used TV, radio, print, newspaper, OOH, in-theatre, social media and PR. With self-deprecating humour, the creative showed Jews don't make great plumbers, contractors or lumberjacks, but they do film brilliantly. Digital also featured J-dar.ca, an online tool that calculated how "Jewish" various Hollywood movies are. It would then recommend TJFF movies to see, with a link to purchase tickets.
Results » Box office sales were up 14% from last year – nearly tripling the targeted 5% increase – with online sales up 43%. And exit polls showed audiences now included younger non-Jewish people.
Cause & Effect » The campaign was the sole activity promoting the TJFF.
 Credits:
Client: Toronto Jewish Film Festival
Executive director: Helen Zukerman
Managing director: Debbie Werner
Director of development: Roz Davidson
Agency: DDB Canada
SVP managing director: Melanie Johnston
ECDs: Denise Rossetto, Todd Mackie
ACDs: David Ross, David Horovitch, Paul Wallace
AD/designer: Jake Bundock
Senior account executive: Leigh Farlow
Producer: Caroline Clarke
Director of broadcast production: Andrew Schulze
Social media planner: Parker Mason
Senior strategist: Sandra Moretti
Strategist: Kevin McHugh
Director of technology, Tribal Worldwide: Joe Dee
Producer, Tribal Worldwide: Chris Webden
VP integrated operations & production, Tribal Worldwide: Catherine Kim
Information architect, Tribal Worldwide: Dale McRae
Junior I=information architect, Tribal Worldwide: Daniel Wiseman
Developers, Tribal Worldwide: Gar Liu, Brendyn Zachary, Patrick Matte
Designer, Tribal Worldwide: Devon Williamson
Social media intern, Tribal Worldwide: Jordan Harrell
Managing director, DDB Canada Public Relations: Martine Lévy
Account manager, DDB Canada Public Relations: James Loftus
Account supervisor, DDB Canada Public Relations: Gabrielle Totesau; Philip Rostron: Instil Productions
Senior consultant, DDB Canada Public Relations: Paul-Mark Rendon; Alter Ego: Mann Casting
Communications coordinator, DDB Canada Public Relations: Emily McCauley; Keen: AXYZ: Posterboy
Jr. communications coordinator, DDB Canada Public Relations: Genevieve Aversa; Suneeva: AdRules