Shopper Innovation Awards: Magnum brings pleasure to Toronto
The Unilever ice cream brand creates a very popular pop-up store in the city, winning a Gold and a Silver this year.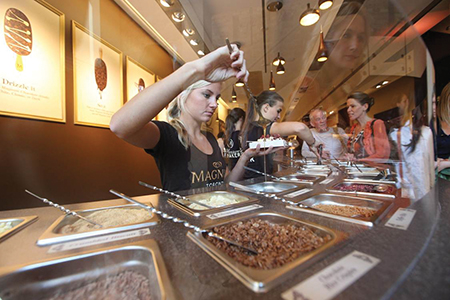 Gold: Best Global Adaptation
Silver: In-Store Engagement
Unilever-owned ice-cream brand Magnum arrived in Canada one year before it launched pop-up Magnum Pleasure Stores in global cities from London to Shanghai to Mexico City. And in June 2013, the brand opened up the doors to its first North American Pleasure Store in Toronto for "pleasure seekers" to create their own bespoke Magnum ice-cream bars.
Agencies Mosaic, Ogilvy, Geometry Global, Mindshare, Harbinger and Think Integrated had only four months to bring the Toronto store to life, with the pop-up featuring a 28-foot custom-built bar, lounge furniture and art installations. In addition, custom pieces reflective of the city's diversity and iconic landmarks were commissioned, including a gallery canvas, 3D CN Tower stick art and various Canadian-themed ingredients (such as Maple Fudge) for consumers to add to their custom Magnum bar. They were also encouraged to share their creations through social media.
PR and social media programs supported the store, including a partnership with eTalk, a celebrity launch event with performances by Cirque du Soleil and weekly celeb appearances including Toronto Maple Leafs' Joffrey Lupul and fashion design duo Greta Constantine.
The store received more than 136 million media impressions, with coverage by major national, fashion and lifestyle media outlets. Results in-store exceeded expectations, with a total of 41,744 bars sold. In response to demand, the store remained open for an additional five weeks and experienced consistent lineups throughout the summer (average wait times ranged from 30 to 60 minutes.)
And during the final event on closing day, Magnum Toronto eclipsed the global Pleasure Store record for most bars sold in a single day with 1,468 bars.
Credits:
Advertiser: Unilever
Director: Adam Seston
Brand Building Manager: Charlie Clark
Assistant BB Manager: Rebecca Orellana
Agency: Mosaic Sales Solutions
Strategy & Client Development Director: James Fisher
Account Manager: Nicole Saunders
Field Manager: Michelle Sowinski
Agency: Ogilvy
Group Account Director: Mark Forward
Account Supervisor: Aoife Coyne
Account Executive: Lakshman Pushparajan
Community Manager: Colleen Carlsen
Agency: Geometry
Group Account Director: Sheila Solby
Account Supervisor: Sophie Hill
Media agency: Mindshare
Associate Director: Stesha Scott
Media Manager: Johari Williams
PR agency: Harbinger
Vice President: Erin Morra
Account Managers: Lana Power, Michelle Reagan
Agency: Think Integrated
Account Supervisor: Mandy Mazurkewich
Account Executive: Lauren Pryor