Shopper Innovation Awards: Milk's daring dairy break-out
The Strategic Milk Alliance pairs the beverage with different foods in-store and online to bump up sales, resulting in two Silvers and a Bronze award.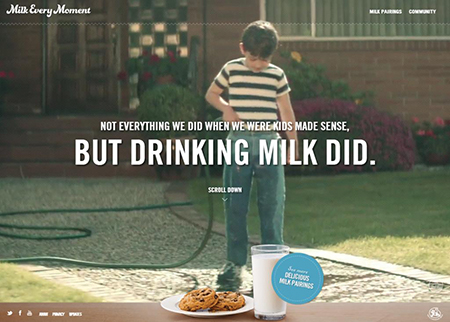 Silver: Changing Behaviour
Silver: In-Store Engagement
Bronze: Custom Retail
As pop and juice become more popular, families are moving away from the tradition of serving milk at mealtimes. So the Strategic Milk Alliance (SMA) and Shopper DDB worked with retailers to launch an in-store program that encouraged moms to purchase milk while grocery shopping by showing the dairy product paired with various foods at different points of purchase.
At Loblaws and Safeway, most shoppers move through the entire store before reaching the dairy section to purchase milk. To inspire mom to couple milk with certain foods, shelf blades with images of pairings were placed in 24 different locations in the store.
At Walmart, 82% of consumers who visit Walmart.ca eventually make a trip to the store within the following 24 hours. SMA leveraged this pre-shop opportunity by partnering with Walmart to gamify its website, inviting visitors to vote for their favourite milk-food pairing. The game was promoted via digital signage at the point-of-sale as well as by mommy bloggers online.
At Sobeys, the dairy section typically receives a low engagement rate because of how the department is laid out in stores. So the agency moved milk outside the dairy section and placed it in large coolers near milk-friendly foods to encourage shoppers to purchase the product before they arrive at the fast-moving, high-traffic dairy section.
And lastly, SMA partnered with Save-On-Foods to offer a discount when shoppers purchased milk with a box of Oreos, which was communicated through its flyer.
The campaign exceeded expectations, with participating retailers reporting a 1% to 5.6% growth during the execution.
Credits:
Brand: Strategic Milk Alliance Shopper Marketing Subgroup
Marketing director: Liz Gurszky
Shopper sub-group members: Anita Medl, Genevieve Desrochers
Agency: Shopper DDB
Account supervisor: Katharine Parkin
Account executive: Lillian Mak
VP managing director: Jason Dubroy
Creative director: Dean Lee
Associate creative director: Neil Shapiro
Copywriter: Valentine Ho
Creative lead: Italo Siciliano