SMF: Decoding the new shopper mind
At this year's Shopper Marketing Forum, consumer psychologist Kit Yarrow looks at how technology changed the way consumers think about shopping, and what brands can do about it.
Rapid and large-scale societal upheaval has drastically altered the psychology of consumers and their shopping habits, meaning businesses must also change their approach to connect with their shopper.
So said consumer psychologist Kit Yarrow, chair of the department of psychology at Golden State University, during the keynote presentation at the Shopper Marketing Forum at the Hilton in Toronto, presented by strategy and Match Marketing Group. Yarrow presented new findings from her book, Decoding The New Consumer Mind: How and why we shop and buy, which is set for release this month.
Yarrow pointed to three socio-cultural shifts that have had a big effect on the consumer brain: their use of technology, increased levels of emotion and a heightened sense of individualism.
The rapid pace of innovation has left consumers feeling less in control of their lives and their smart devices act a sort of security blanket, making them feel they have some dominion over events. Tech is also shortening attention spans, affecting memory and turning consumers into visual storytellers, Yarrow says.
"We have become a group of people who respond to short, fast, visual bursts of information," she adds.
Technology has also created a more superficial way of acquiring that info: as a result of sophisticated algorithms and following/friending brands and people you already like, consumers are creating information bubbles in their social feed. Combined with a lack of trust in government and business, people are focusing on themselves, Yarrow says.
"The end result is that people feel much less like they are part of a community and much more like they are on their own," she says. As a result of this lack of trust and weakened sense of security, consumers are also more emotional than ever, she says.
In the U.S., for instance, 76% of respondents say they feel anxious in the JWT Anxiety Index. When people are more stressed, their bodies go into self-protect mode, meaning the focus goes from being on the brain to their hearts and bodies, she says.  Brands can tap into this by helping to soothe consumers.
One thing that makes consumers feel more in control is creating a sense of boundaries.
"Consumers love and respond really well to boundaries of all sorts," Yarrow says. For instance, frames around signs make consumers feel more comfortable and less anxious.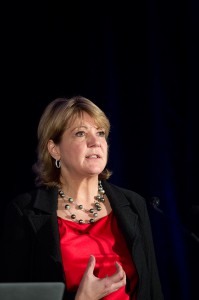 Yarrow says brands also need to focus more on removing hurdles from the shopper experience rather than on providing extra incentives. Consumers are telling her they respond better while shopping when they feel like bad things have been taken away from their experience, such as rude and hostile employees and other customers, than when good things have been added.
Yarrow presented five tips for brands looking to address these shifts in shopper behaviour: involve consumers, provide extra value, overcome the trust deficit, communicate to be heard and innovate with technology.
Involve consumers: Building off of insight that consumers are seeking a greater sense of control, Yarrow recommends getting consumers involved with the brand. This can be done through crowd-sourcing, contests or asking consumers to contribute to a design, she said
Go bigger: With people having shorter attention spans, it is harder to break through to consumers today. "There has to be an extra incentive," she said. "Shoppers say to me all the time, 'why should I buy [that item] now? I can get it later.' It came down to getting the product, plus something, like a charity tie-in or receiving a discount.
Overcome the trust deficit: Today, marketers have to earn trust. They can do this by being transparent, Yarrow says, like McDonald's did with its "Our Food. Your Questions" campaign. She also recommended creating a personality for a brand or product, being authentic and injecting a sense of humanity into the brand.
Communicate to be heard: Yarrow says marketers must ensure their communications focus on the immediate benefits of a product. It's a reason, Yarrow says, the Skinnygirl line is so appealing: it focuses on the benefit, as in skinny, rather than the diet.
Tech innovation: Yarrow says she believes it is increasingly important for consumers to make technology a bigger part of the in-store experience, since consumers don't perceive any difference between their lives online and in person. However, this is risky, because consumers are wary of tech being used to collect their information in stores.
"We have to let consumers know we are just trying to figure out what works for them and what doesn't," she says.
The Shopper Marketing Forum wraps up this afternoon and will be followed by the Shopper Innovation Awards.
Top Photo courtesy of Shutterstock. 
Kit Yarrow photo by Ryanwalkerphoto.ca