Via Rail celebrates the journey
The rail co has launched an integrated campaign focused on nature's beauty to promote its long-haul service.
Via Rail is positioning the train service's long-haul routes as the ideal way to discover Canada with a new national campaign by Cossette showcasing the country's landscape.
Targeted at men and women age 45 and older, the "Beauty takes no shortcuts" campaign focuses on the rail co's Toronto to Vancouver and Montreal to Halifax routes and trains called the Canadian and Ocean.
Gorgeous images of the Rockies, Atlantic Ocean, luscious flora and pristine lakes are at the heart of the push being rolled out with OOH, print and online ads, along with a 45-second video that lives on the company's website and YouTube. The advertising is running only in Canada, though the video is being shown at trade shows in other markets like the U.S., Brazil and Japan.
"Nature took the time to create breathtaking landscapes – you should take the time to enjoy them," Antoine Bécotte, VP creation and chief creative officer in Cossette's Montreal office, says of the idea behind the campaign.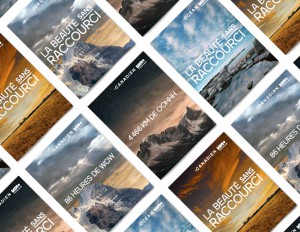 It's the first work from Cossette for Via Rail since it won the business for both marketing and communications of the brand and its Via Préférence loyalty program. Touché did all the media placements for the campaign, which will run until the end of May.
Via Rail, an independent Crown corporation that operates up to 500 trains weekly, has been experiencing falling passenger revenues but recently completed a $22-million renovation to its long-haul service, adding domed observation cars and renovating its sleeper cars, as well as adding new dishes that showcase regional cuisine.
"[The train is] a means of transportation that invites passengers to rest and recharge their batteries, and take pleasure in some peace and quiet," Sylvie Bourget, chief marketing and sales officer at Via Rail Canada said in a statement. "Travelling on board the train is a memorable and impressive experience — and the creative pieces show just that."