Aeroplan's open door to vacation
As the travel reward space heats up, the Aimia-owned brand's campaign touts the ease with which it gets people to their destinations.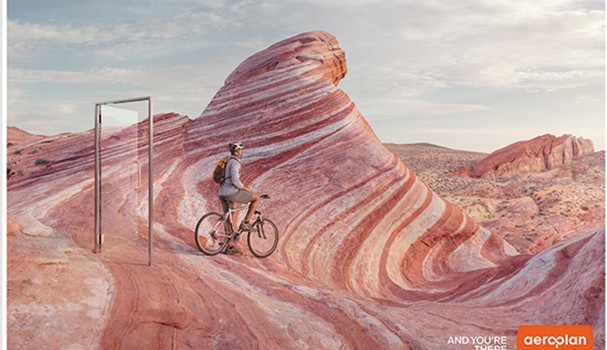 Aimia-owned Aeroplan has launched a large-scale national campaign for the loyalty card to get the word out about some of its newest features and stake out its turf in an ultra competitive market.
With the tagline "And you're there," the creative by Cossette in Montreal seeks to illustrate that Aeroplan members accumulate rewards quickly, getting them to their destination faster, says Louis-Hugo Marchand, CD at Cossette.
The campaign, running throughout 2014, features large images used across web, mobile, tablet, print and OOH, as well as takeovers in airports such as Pearson International, train stations, including Toronto's Union Station, office towers, restaurants and taxis in Montreal, Toronto and Vancouver. Online efforts include takeovers of the home page of the Globe and Mail and La Presse, as well as traditional banner ads.
"The desire or the dream of reward travel is still a very powerful thing and combined with the fact we actually get you there with Aeroplan, we want to reiterate you can still have these big goals in terms of travel," Marchand says. "That's why we chose super-sized imagery and worked from there with the proposition of 'And you're there.'"
The campaign comes as Aeroplan rejigs its financial services arrangement, with TD taking over as primary partner, with former bank partner CIBC retaining some customers. In the meantime, multiple challengers have sparked a dog fight recently in the air travel rewards space, with companies such as Capital One, American Express, RBC and CIBC stepping up their marketing efforts for their travel loyalty programs.
Chris Willoughby, general manager, marketing communications at Aeroplan, says the campaign builds on a TV spot launched last year and is part of Aeroplan's largest-ever national campaign.
"The marketplace is quite competitive now and we wanted to make sure our brand was out there," Willoughby says. "We want to be able to promote [the card's] new features but in a way that promotes the overall value of the Aeroplan program.
"Trying to find more innovative, and I would say, spectacular outdoor formats we could use to really underscore it were an important part of the campaign as well," he adds.
The posters feature photos of international destinations that are intentionally not named, Marchand says, though some, like a photo with the Golden Gate Bridge in the background, are recognizable. In most of the images there is a framed glass door in the scene, which Willoughby says is "the perfect metaphor for the ease and quickness with which [Aeroplan] can get you to your reward."