Who picked up a LIA?
Check out the Canadian work that won big at the London International Awards over the weekend.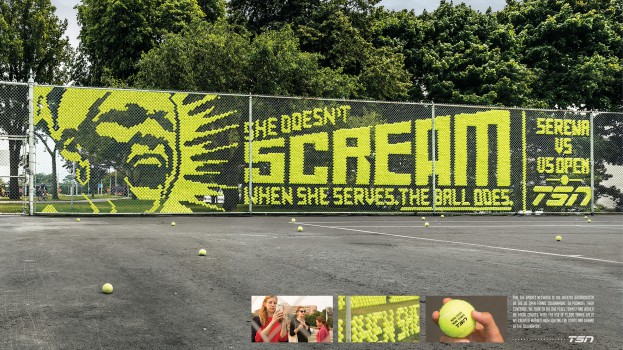 Fresh off its Gold Agency of the Year win last Thursday night, Leo Burnett is taking home even more hardware, this time from the London International Awards.
The Toronto-based agency was among a handful of Canadian winners at the LIAs.
The agency nabbed two Golds in the Billboard category for its work with the US Open Tennis Tournament/Bell Media, turning a chained fence into a giant billboard by filling it with coloured tennis balls. The Golds were awarded for Art Direction and Innovative Use of Billboards.
The campaign also picked up three Silvers and a Bronze in the same category.
The agency also picked up Gold in the Non Traditional category for its multi-award winning work for P&G's Always brand, "#Likeagirl." The same campaign picked up two Silvers, one in Branded Content and one in TV/Film/Cinema, as well as two Bronzes, one in the Digital category and one in TV/Film/Cinema category.
Cossette joined the winners circle with a Gold for its work with the Silent Film Festival in the Digital category. The campaign featured a "silent time machine" on Instagram, inviting consumers to turn their phones on their side and rapidly scroll through images to create a timeline of Charlie Chaplin's life.
The fourth Canadian Gold of the night was handed out to branded content creators Tamir Moscovici, Paul Proulx for the full-length feature documentary Kaz: Pushing the Virtual Divide, which the duo created for Sony.
DDB had a good showing at the award show, walking away with a number of trophies in the Radio & Audio category. It picks up a Silver and a Bronze for its work with Subaru.
For Johnson & Johnson, the agency won two Silvers in the same category, for its "Warm up to Love Again" campaign.
It also nabbed a Silver – again in Radio – for its Crime Stoppers work.
Finally, DDB picked up a Silver in the TV/Film/Cinema category for its "Pep Talk" campaign for Netflix.
Toronto's Red Urban also walked away with a Silver in the Branded Content category for its full-length feature documentary Once More for Volkwagen. 

Bronze winners of the night included FCB Toronto for its PFLAG Radio campaign "The Me Inside."
Grip's "Gems" campaign for Testicular Cancer Canada also picked up a Bronze in the Radio category.
Finally, Y&R Canada picked up two Bronzes for Ford in Radio.
The last two Canadian Bronzes of the night went to Cundari and sound production house The Embassy VFX, which each picked up a trophy in the TV/Film/Cinema Music and Sound category for their BMW campaign "Ultimate Racetrack."