Metro offers a holiday surprise
A circus-themed stunt is part of the grocery retailer's attempt to bring the holiday spirit to its regional-focused strategy.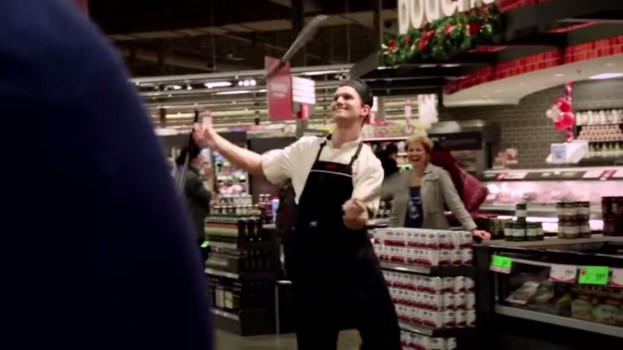 Grocery chain Metro is taking two different routes in Quebec and Ontario to bring some holiday cheer to its locally-focused brand strategy this season.
On Nov. 8, jugglers, acrobats and other performers came into a Metro Plus location in Ste. Julie, Quebec, dressed as regular staff. They then surprised shoppers when they broke out the knives, started juggling vegetables and performed contortionist feats in front of their eyes.
A video of the stunt was released on Nov. 23, with a 30-second version airing now until Dec. 24 in Quebec. Publicis Montreal is the agency behind the campaign, 45 Degrees, a division of Cirque, organized the stunt and BCP Media handled the media strategy.
Metro's holiday campaign in Quebec is based around surprises. There are also radio ads, digital banners, a social media push with calls to action driving consumers to the video and the "28 Days of Surprises" holiday microsite, which is offering a different coupon, promotion or contest every day between now and Christmas Day.
In Ontario, Metro's holiday campaign is mostly in-store, online and in its flyers. Based around the "Some Things are Meant for Each Other" and "My Holidays, My Metro" taglines, the store is pushing different weekly offers, product pairings and holiday meal ideas on its website and flyers. Marc Giroux, VP of marketing and communications at Metro, says part of the slimmer campaign in Ontario is because media is more expensive, and promoting personalized offers and experiences is a solution to speak the same localized message to consumers there.
"We bring our scale to everything we do to be as effective as we can, but we execute locally," he says. "The brand in Ontario is newer and at a different stage, and the competitive nature of the market is also different. The strategy is adapted both to that nature and what consumers in Ontario want. We've been regionalizing our strategy to make sure we are relevant to each of the markets we serve."
In both provinces, Metro has been pursuing the regional strategy through its loyalty program and by reinforcing the chain's link with local growers and producers to show its connection with the communities it serves. Giroux says the campaigns in both provinces strike the balance between more inspirational holiday messages and showing shoppers what Metro can provide them on a personalized, local level.
"We've re-energized that commitment in the last year by telling customers that we would go further for them, and we have many ways of going above and beyond to bring them the best and give them a little extra every time they come in store," Giroux says. "There are less local products available going into the winter, so we're still showcasing our commitment to local shoppers by showing there are new things every day or week that we can offer."