CIBC says relax
The bank's strategy to reach travelling crowds includes sleep pods and manicure stations.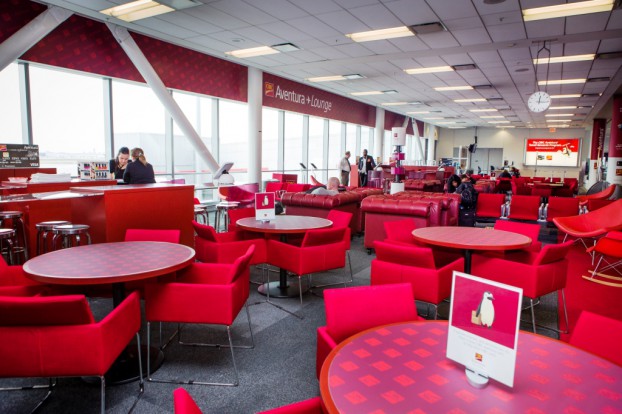 With more than 5,000 people dropping in, CIBC is considering making its Aventura Lounge at the Toronto Pearson International Airport a permanent fixture in its bid to make travelling less stressful.
Located in Terminal 1, the lounge offers a range of seating styles, device charging stations, tablets, a pair of "Energy Pods" (chairs specially designed to provide the perfect power nap) and services including shoe shines, manicures and massages.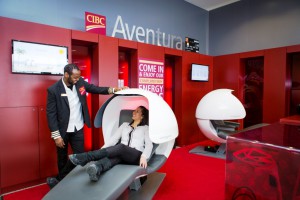 The lounge is the latest activation CIBC has done as part of a partnership with the Greater Toronto Airports Authority established a year ago and is a bid to help promote its new travel card, which competes in a crowded space.
Working with brand activation agency Fuse, the partnership has included things like sponsoring free luggage carts and pop-up activations meant to engage kids while their exhausted parents take a break. Monique Giroux, VP of sponsorship marketing at CIBC, says all of CIBC's activations during the partnership have been about identifying and solving the "pain points" of travellers.
"For us, the lounge really came out of research we conducted on what kinds of services travellers value," she says. "One of the things [travellers] told us is they want a quiet space to recharge."
CIBC also has an airport-specific marketing platform that has evolved during its work with Pearson in a bid to connect with the 35 million travellers that pass through the hub annually. This has included changing its creative to be less "white" to stand out more amongst other ads and using a tagline specific to travellers ("Bank Before You Fly"). But the biggest strategic component of the push has been researching the travellers' path through the airport to reach them when they are most receptive.
"Before security, you're not digesting messages because you're rushed and just want to get through the line. Once you get through, you take a deep breath and relax, and that's the time we speak to them," she says. "As a brand, we want to demonstrate that CIBC is a bank that fits into your life, be it by being able to bank with your smartphone remotely or easy access to ABMs when you rush through an airport."
Launched in mid-October, he lounge is open to all travellers until Jan. 11, although CIBC clients and Aventura cardholders get access to exclusive giveaways and priority access to some of the services offered.
"People do things at Yonge Dundas Square all the time, but there, you're competing with shopping, traffic, pretty much the entire world going by," says Stephen Brown, president of Fuse Marketing Group. "The airport is a really good point to speak to people because if you're doing it right, people are sitting down, relaxing and open to what you're saying."