CASSIES Grand Prix: Molson Canadian's passport to success
After some globe-trotting and unique thirst-quenching, the Beer Fridge snags top honours at home.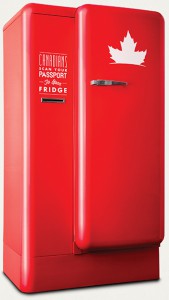 This story appears in the February/March 2015 issue of strategy. 
Grand Prix
Gold: Packaged Goods 
Situation Analysis: Molson Canadian has struggled against several downward trends: a smaller consumer base (there are fewer millennials than their parents); wine, spirits, cider and ready-mix drinks have been increasing in popularity at beer's expense; and premium segment brands like Molson Canadian were caught between the growing value segment brands and "super premium" craft beers. Combined, they drove the premium segment down by over 13% during the previous five years. As a result, the brand experienced consistent, long-term decline in brand volume, equity and market share.
Insight & Strategy: A brand turnaround had to be achieved by enhancing brand equity, core to which was its Canadian identity. This would come from looking not at what this identity is, but what triggers it. Some very specific moments transform quiet, internal expressions of national pride into a more extroverted celebration: when Canadians find themselves away from home, when Canada competes on the world stage and Canada Day, when attention at home turns to the national identity. These would all be harnessed by the "Molson Canadian Beer Fridge."
Execution: The Beer Fridge, opened only by a Canadian passport, debuted in June 2013 with an online video capturing the journey of this technically complex fridge through England, France and Belgium. In phase two, an Ottawa hockey lover living in Indonesia was surprised by his buddies from home, delivering a Beer Fridge stocked with Molson Canadian Olympic Victory Bottles right before the Sochi Olympics. This was followed by the Beer Fridge taking up residence in Sochi's Canada Olympic House before coming home for Canada Day, to be opened only by the correct singing of the national anthem. Consumer reactions to the Beer Fridge appeared across online video, TV, digital display, paid search, social and mobile platforms.
Results: The goal was stopping the seemingly inexorable volume and share decline (the premium beer category as a whole declined a further 1.3% since the campaign launch). The brand reversed a solid five-year downward trend, posting a share gain not only in the premium segment but in the total beer market. This share gain was equivalent to an incremental 7.6 million bottles of beer, generating more than $6 million in incremental revenue for the business.
Cause & Effect: With no year-to-year changes to budget, distribution, pricing or innovation levels, the "Molson Canadian Beer Fridge" campaign was clearly the driver of the sales increase. It went viral three separate times since launch, generating a total of 6.5 million views and $160 million in PR value globally – over $50 million of that in Canada. With more than one million "likes" and about 337,000 "shares," the campaign generated clear and widespread engagement, leading directly to the sales turnaround.
Credits:
Client: Molson Coors
VP marketing: David Bigioni
Senior marketing director: Jeff Harrop
Senior marketing manager: Chris Blackburn
Marketing manager, commercialization: Madeline Burch
Production consultant: Lori Estabrooks
Agency: Rethink
CDs: Chris Staples, Ian Grais, Aaron Starkman, Dré Labre
ACDs: Joel Holtby, Mike Dubrick, Mark Scott
Producers: Monika Ghobrial, Clair Galea
Managing partner: Caleb Goodman
Group account director: Cheryl Munro
Account director: Ashley Eaton
Head of strategy: Maxine Thomas
National director of digital strategy: Darren Yada
Director, Sklar Wilton & Associates: Jennifer Roberts
Group strategy director, MEC: Wes Wolch
Senior communications manager, MEC: David Stanton