Indigo's personal picks
The retailer gets back to books with its new focus on in-store experts.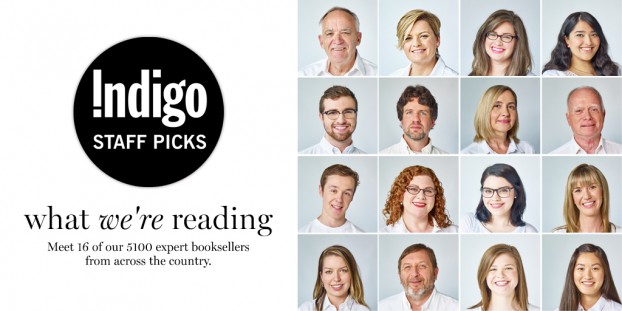 Despite the bright displays of scarves, throw pillows, vases and confectionery treats, Indigo is, at its core, still about books.
To put the emphasis on its knowledgeable and friendly workers, the brand is launching a new program today highlighting just some of the faces behind its "Staff Picks" program.
In February, the retailer went across Canada and conducted customer focus groups, asking questions around how people sought out their next book purchase across banners (Indigo, Chapters and Coles). Consistently – and a bit surprisingly to the brand – customers had a lot of love for the recommendation program and even knew their local store's staffers by name.
Following that, the retailer asked managers across Canada to nominate the employees who best represented the effectiveness and passion behind "Staff Picks." After receiving 150 applications – including videos and letters – it settled on 16 book advocates who will now be showcased on a digital shop on the Indigo website and on social media.
"The intention really is to highlight them as examples of what's available at every store," says Samantha Taylor, VP of marketing at Indigo. "They really represent very different genres, different ages."
The social media push (including Twitter, Instagram and some paid Facebook support), will be for about two weeks, but the staffers will be showcased in other communications throughout the year, including other major programs like the retailer's fall and holiday marketing. The idea is to refresh the program with 16 new faces next year.
Indigo has been on a path to expand into what Taylor calls "Canada's first cultural department store." Several of its major Indigo and Chapters locations across Canada (such as Toronto's Yorkdale Shopping Centre and the West Edmonton Mall) are currently expanding general merchandise, adding American Girl boutiques to some locations and increasing book selection.
"I think [the new program is] actually very much at the core of what the transformation is," Taylor says. "Regardless of that journey, we are very much aware that books are at our core."