Cineplex looks at the big picture
An animated short launches a new brand platform that reminds people to make time for the things they love.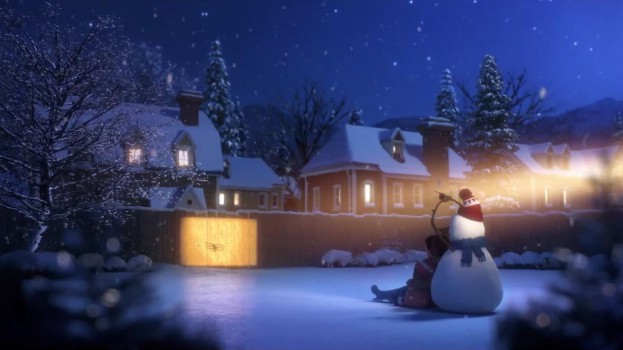 With its new "See The Big Picture" brand platform, Cineplex Entertainment is trying to forge an emotional connection with Canadians who need to take a break.
The new platform launches today with an animated short called "Lily & the Snowman." In it, a young girl's snowman come to life, as do the stories he tells using the shadows cast from a light in the house. Once Lily sees that the morning light makes the snowman melt, she finds a daytime home for him in the garage fridge, bringing him out every night to play. That fridge becomes a more permanent, frost-bitten home as Lily gets older and has less time to play with him, until a late night at the office reminds her of how important taking some time for entertainment is for herself (and her family).
Zulu Alpha Kilo was the creative agency lead on the campaign, working with Cineplex's internal Content and Creative Group, with studio Hornet providing the animation and Vapor Music handling music and sound design. Hill + Knowlton, which won the PR account for Cineplex earlier this fall, is providing communications support. The media, which relies heavily on Cineplex's own assets, is being handled internally.
"Lily & the Snowman," which will run during the Cineplex pre-show during December and January, is the first of a series of shorts that will support "See the Big Picture," which replaces Cineplex's previous "Escape With Us" brand platform. In addition to the shorts, the platform will be supported with in-theatre signage, digital and print ads, and social media activations that will include calls for user-generated content in the new year. The platform will also be integrated with Cineplex's channel on Air Canada's enRoute in-flight entertainment system and messaging pushed out through the Scene loyalty program.
In January, the rendition of Genesis' "Follow You, Follow Me" by Canadian musician Adaline featured in the video will be made available for purchase, with proceeds going to Free the Children, Cineplex's national charity partner.
Pat Marshall, VP of communications for Cineplex Entertainment, says the the platform is built around the idea that as Canadians tend to wear their busy lifestyles as badges of honour, the need for entertainment and leisure is more important than ever.
"The reality is we all know that we need a balanced lifestyle, so we're hoping this is an opportunity for people to take a step back and say, 'you're right, I need to enjoy life more fully,' and going to the movies is a great way to get away from that craziness we experience on a day-to-day basis," she says.
From a business perspective, Marshall says the goal was to create a platform that can touch on all elements of the company's expanding business. In addition to movies, that includes advertising and tech solutions through Cineplex Media, Cineplex Digital Network and Cineplex Digital Solutions, food service and gaming, plus an expanding eSports offering and a soon-to-be-launched "Rec Room" entertainment destination.
"When we developed 'Escape With Us,' the company was primarily in exhibition, and we're in so many different businesses that really aren't as related to that tagline," Marshall says. "We're a mature business that has been around for more than 100 years, but we've constantly reinvented ourselves through our diversification strategy to remain relevant. But they all do sort of seed off of our core customer, and it was a challenge for us and our agency to create a concept like this that works across everything. But the end result is something we think will help us be more engaged with our core customer across all the platforms we offer."