Belairdirect makes insurance a piece of cake
The company taps celebrity chef Lynn Crawford to show how its new Coverage Advisor makes finding a policy easier.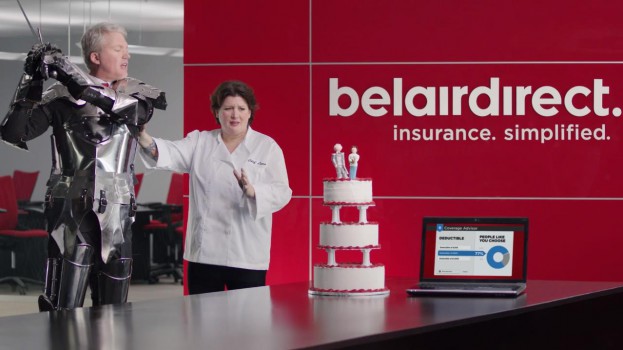 Belairdirect is looking to show how its new Coverage Advisor service contributes to its mission of making insurance easier in a new spot featuring celebrity chef Lynn Crawford.
The new spot, created by Sid Lee, is a continuation of a concept that debuted last year where other Canadian celebrities – including figure skater Scott Moir, sprinter Bruny Surin and former CFL player Buck Pierce – sit in a conference room with the personification of Belairdirect's knight mascot, only to stomp out as he frustrates and subtly pokes fun at them.
In this one, however, Crawford manages to stay one step ahead of the knight as he comes up with cooking-themed analogies for how easy the Coverage Advisor service is.
"The knight is usually very sarcastic and gets the upper hand on whoever he brings in, but the twist we gave it this time was to have Lynn outsmart him," says Martine Bouthillier, director of marketing for Belairdirect. "We've seen how tough she is on her TV shows, and we think it was a great way to reflect her personality a bit more as a little wink to the consumers who are fans of her."
Bouthillier says using celebrities in its more recent Belairdirect campaigns is a way to grab attention and drive awareness around its advertising.
"We also selected Lynn for a reason so we could do something really rooted in her personality," she adds. "She has a reputation of being true to herself and honest and direct, and that's in line with our stance and how we've been addressing consumers."
The 30-second Lynn Crawford spot will be running on TV in Alberta and Ontario, with a 15-second version running as pre-roll, while a new French spot for Coverage Advisor featuring fashion expert Jean Airoldi is airing in Quebec. PHD handled the media buy.
Coverage Advisor is a new online tool from the insurance company that helps potential customers find coverage suitable for them by showing statistics about Belairdirect customers who are similar to them and the choices they have made.
"We know insurance can be seen as complicated and intimidating by consumers, so our mission as a company has been to simplify everything from quote to claim," Bouthillier says. "It's important we have that message in our communication to consumers, but we have to walk the walk as well by bringing those kinds of products to market as well."