BMO rolls out the "Ball-Star"
In time for All-Star Weekend, the bank looks to an anthropomorphic basketball to reinforce its connection to the game.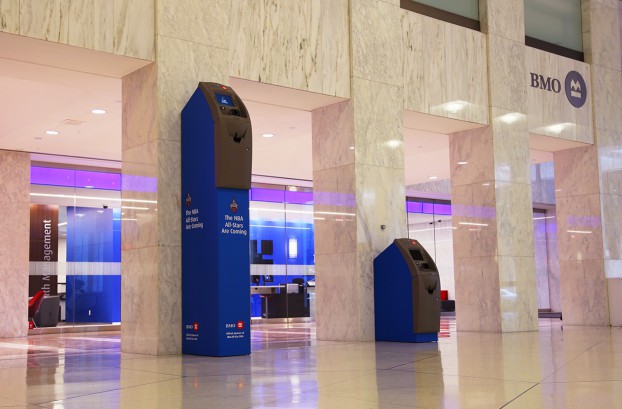 For All-Star Weekend, BMO, the official bank of NBA Canada, is showing how much it knows about basketball by turning to someone (or rather, something) that spends more time on the court than most.
BMO has been running a week-long campaign centred around the "BMO Ball-Star," a basketball in BMO blue-and-white that traces his roots back to the first NBA game, played in 1947 in Toronto, as he prepares for All-Star Weekend. The "Ball-Star" appears in a 45-second TV spot that has been airing on TSN, Sportsnet and NBA TV, as well as a series of shorter online videos.
In the days leading up to Feb. 14, the "Ball-Star" will be interacting with fans at public events and on social media, where he will be live-tweeting Saturday's Skills Competition and Sunday's All-Star Game. The campaign, which was developed by FCB Toronto, also features a 10-foot high ATM (the same height as a regulation NBA net) outside its branch at First Canadian Place.
BMO became a sponsor of NBA Canada and the Jr. NBA last spring and is a key sponsor for All-Star Weekend. Last fall, BMO kicked off its new association with the sport when it ran a basketball-themed spot featuring groups of young players questioning what the bank could possibly know about basketball, eventually landing on the fact that it at least knows how to help young people develop vital life skills. That concept is echoed, and spoken, in the "BMO Ball-Star" spot, albeit in a more fun way.
"We support basketball not only at a professional level, but at a grassroots level, because we believe it really helps children learn life skills that will help them be great people and successful in life," says Connie Stefankiewicz, CMO for BMO Financial Group. "To take that idea to the next level was to ask the ball's point of view. It was an opportunity for us to maintain that message but in a way that brings humour to what is going to be a huge event and cut through everything else that's going on."
Stefankiewicz says while the bank's first basketball spot showed kids having fun playing the game they love, it was somewhat more serious, but taking more of a humorous tone for "BMO Ball-Star" was more reflective of the fun and excitement generally associated with All-Star Weekend.
Earlier this month, BMO launched its new "BMO Effect" brand platform, positioning the brand as more human, authentic and, ultimately, helpful to its customers.
"The brand platform is something we bring forward in everything we do," Stefankiewicz says. "It's interesting, if you think about it, how we've turned a ball into something that's more human. He has a huge personality and is very authentic, and it's tongue-in-cheek, but these are still the things we want to be associated with our brand."