Connecting with drivers
Chevrolet and Volkswagen are both betting on teched-out cars to stay ahead of the auto industry curve.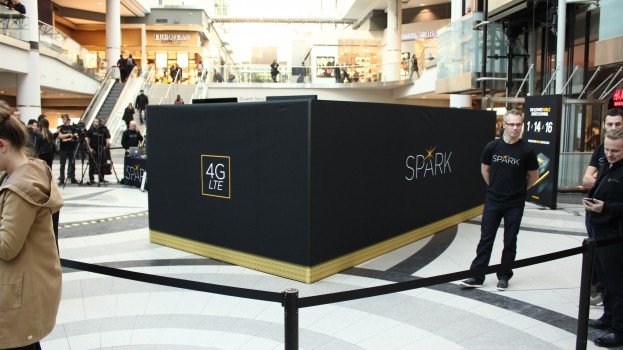 This story appears in the February/March 2016 issue of strategy.
Connected cars are fairly new to the automotive market, with most marketing portraying early forms of the technology as just another feature. But as the platforms become more sophisticated and prevalent, automakers are exploring how to best use them to reach their target driver.
At the beginning of the year, out-of-home ads, featuring what looked like a box for a phone, teased the "ultimate mobile device" in Canadian cities with clocks counting down to Jan. 14. That was when the Spark 4G was revealed as the latest model of the Chevrolet Spark, a compact car that also provides 4G LTE and comes with the Android Auto and Apple CarPlay platforms so passengers can connect their phones and use their apps from the driver's seat. Commonwealth McCann worked on the execution.
"When we start talking about connectivity, it made sense that this was more than a car, it was a mobile device," Paul Bailey, then-advertising manager for Chevrolet at General Motors of Canada, told strategy prior to the unveiling. "We know it's important to find messaging that breaks through in what's become a competitive car segment, so it's a bold statement."
The Spark's low price point, a size suited to city driving, plus the tech and network that appeals to millennials' desire to always be connected led the company to target the campaign to that demographic in urban centres.
"For the industry to be successful in Canada, it's important that we reach this next generation of car buyers," Bailey said. "Folks don't tend to see Chevrolet aligning with a millennial buyer, as we're more well-known for trucks, performance vehicles and large cars."
The Spark unveiling wasn't the first time Chevrolet marketed a connected car to a millennial audience. A month earlier, it ran the "Best Cruze Ever" campaign, by MacLaren Momentum and Isobar, in Toronto, promoting the Cruze's 4G connection to entice millennials to take a customized test drive, and featuring popular influencers in a video promoting the program.
Whereas Chevrolet has focused on individual models to reach one specific demographic, Volkswagen is taking a more mass approach with App-Connect, its connected car platform. Peter Blackwell, director of marketing at Volkswagen Canada, says the company's research has not only shown Canadians tend to be more digitally engaged than other markets, but that Volkswagen buyers are more digitally engaged than the average Canadian.
"We realized this is a feature that, for our brand, is not age-specific," he says. "Connectivity is something that's already in their life, regardless of if they're buying their first car or looking for something to transport their family."
A campaign created by DDB Canada follows a guy looking for his lost dog in his Tiguan SUV and a girl who helps him in a Jetta sedan. Along the way, they show how easy it is to use App-Connect to check maps and messages, make calls and play Spotify playlists. The two stories, which are told from each person's perspective online, are combined in the TV spot, while shorter videos spotlighting individual features are being used on Volkswagen's social channels, as pre-roll and in-dealership ads.
"The only part of life smart tech hadn't found its way into was the car, so instead of talking about how it works, we're just showing the usefulness and benefit of having it in this new space," says Blackwell. "The challenge was resisting the conventional notion to over-explain how everything works."
Blackwell says the marketing team was at the table during vehicle development and pushed for the platform to be available as a standard feature in every model, from compact cars to SUVs.
"We told the product guys there's a bigger story to be told here if the technology is model agnostic, because that allows us to tell it from a brand level," Blackwell says. "It would be difficult to say we're making life easier…but then complicate things by making consumers decide which model or trim level they want in order to get it."