CASSIES Gold: A&W makes things better
The QSR chain focused on its ingredients to win over younger consumers.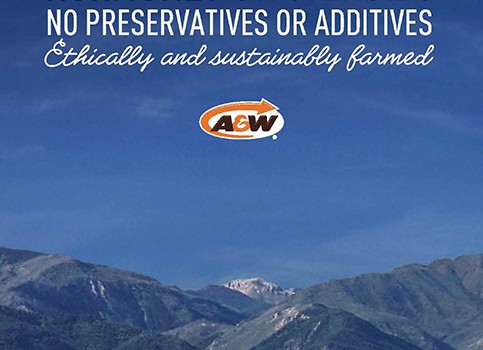 This story appears in the February/March 2016 issue of strategy.
Gold: Retail + Silver: Best Launch
Situation Analysis: In 2012, A&W faced multiple challenges. Boomers, its main target, were aging and their interest in QSRs was decreasing. New competitors, such as Five Guys and Hero Certified Burgers, were appearing at the top end of the market, while A&W was priced at a premium compared to mainstream competitors such as McDonald's and Burger King. These multiple pressures led to declining sales and guest counts. All this resulted in a mission to increase appeal with a new, younger consumer.
Insight& Strategy: The new target of 25- to 44-year-olds has concerns about food quality issues that come with fast food. When those concerns go away, not only do people feel better about the food they are eating, the food itself actually tastes better.
A&W could attract its target consumer by first delivering a better burger experience and then repositioning the core menu based on better ingredients. The most appealing and differentiating idea for each key menu grouping was identified: beef "raised without the use of hormones or steroids," "antibiotic-free and vegetarian-fed" chicken, and eggs "from hens fed a vegetarian diet without animal by-products."
Execution: Launched in August 2013, Allen, the A&W manager in the campaign, interviewed real people across the country as they sampled the new beef product. The new chicken and egg offerings followed in 2014. Television was supported by 15-second pre-roll, rich media display advertising and a social campaign on Facebook.
Results: A two-year decline in guest visits was reversed as traffic increased in 2014 by 3.2%. Dollar market share in QSR burger chains increased from 13.6% to 14.5% across 2014, an annualized growth rate three times that of any other large competitor. The target to increase same-store sales by 3% in 2014 was exceeded in six straight quarters, reaching a high of over 9% in the first quarter of 2015. Same-store burger sales also exhibited six straight quarters of growth. Consumption grew significantly among 25- to 44-year-olds, from 14% to 16% (burger servings) by the end of 2014, when all major competitors' share declined. Burger sales alone increased by over $96 million in a year.
A&W overtook Wendy's and Harvey's against the measures of "making food the right way" and "serving good quality food," and took first position nationally among QSR burger chains with the "best tasting burger" score.
Cause & Effect: Media spend at $15 million (a quarter of the budget of A&W's main QSR competitors) remained as a fixed percentage of sales. Pricing and distribution remained unchanged while there was a reduction in price-focused activity.
Credits:
Client: A&W
President and COO: Susan Senecal
Senior director of marketing, brand communications: Tom Newitt
Manager, in-restaurant and online communications: Robert Cifarelli
Manager, national sales promotions: Sarah Hillifer
Assistant marketing manager, Social Media: Julia Cutt
Agency: Rethink
CDs: Chris Staples, Ian Grais
ACDs: Leia Rogers, Bob Simpson, Lisa Nakamura, Nic Quintal
AD: Eric Arnold
Broadcast producer: Laura Rioux
CWs: Jordan Cohen, Michael Mayes, Max May, Sean O'Connor, Dan Szczepanek, Karine Doucet
Print producer: Kerry Bhangu
Interactive designer: Alex Fleming
Interactive producer: Anna Pellici
Partner: Tom Shepanksy
Partner, group account director: Chelsea Stoelting
Account executive: Albane Rousselot