CASSIES Bronze: SickKids puts the spotlight on patients
The hospital's campaign had a big impact during the crucial holiday season.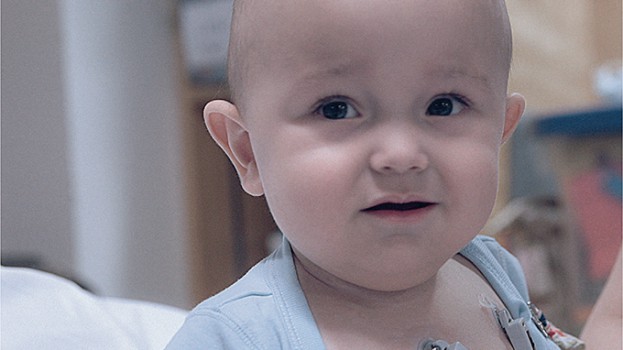 This story appears in the February/March 2016 issue of strategy.
Bronze: Events, Seasonal and Short-Term
Situation Analysis:
SickKids is Canada's leading children's hospital, seeing more than 100,000 kids enter its doors annually for life-saving care, a number that continues to grow. Historically, funds raised during the holiday season amounted to approximately one-quarter of the hospital's annual fiscal target. The 2014 holiday season target was to match the previous year's record total of $31.6 million.
Insight & Strategy:
The best SickKids campaigns had demonstrated the leadership and excellence of SickKids and captured the indomitable spirit of the children, while also creating a sense of urgency and demonstrating the impact of donations. But, during the busy holiday season, people were not thinking about the life-and-death battles that are being waged at SickKids. It needed to be made real for them at a time when their minds were elsewhere.
Execution:
Launched in November 2014 in the GTA and supported by a budget of $1 to $2 million, "Better Tomorrows" gave an unprecedented behind-the-scenes, real-time look into SickKids. Featured across television, print, online banners, OOH, SEO/SEM, a microsite and social, media placements, coordinated in real-time, told a story featuring a new patient each day for 45 days, collectively depicting all the services provided, from critical care to therapeutic programs.
Results:
"Better Tomorrows" surpassed the 2013 holiday season benchmark by 17%, achieving a record-high donation amount of $37 million. The campaign also increased propensity to donate by 13% amongst GTA residents who recalled seeing it.
Cause & Effect:
"Better Tomorrows" achieved 562,461 total views during the campaign period, 125% over objective and garnered 8,000 new Facebook followers (7% lift) and over 58,000 total shares, likes and comments. The webpage was viewed 1.3 million times (164% over objective).
Credits:
Client: SickKids Foundation
President & CEO: Ted Garrard
VP, brand strategy and communications: Lori Davison
Project manager, brand strategy & communications: Harleen Bhogal
Manager, patient ambassador program: Lisa Charendoff
Agency: J. Walter Thompson
Chief creative & integration officer: Brent Choi
SVP, CD: Ryan Spelliscy
ACD: Andy Brokenshire
AD: Cindy Habana
CW: Mike DeCandido
Senior producer: Raquel Rose
VP, management director: Neil MacLellan
Account executive: Sarah Leveille
Director: Mark Zibert
Production company: Sons & Daughters
Post-production: Panic & Bob, Alter Ego, Smith
Editing: Michelle Czukar
Music: Eggplant (Adam Damelin)
Media agency: Mindshare