Creative Report Card: Always shifts generational gears
How the top brand won over generation Z by championing confidence in girls.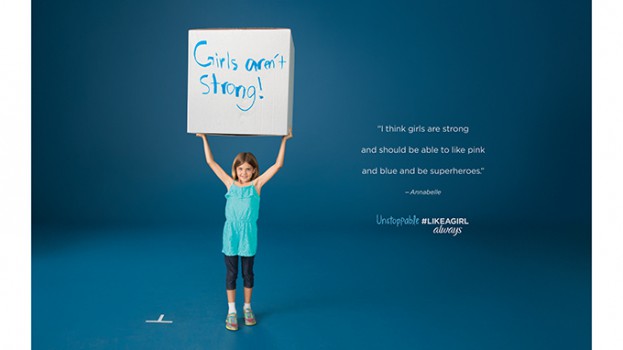 This story appears in the February/March 2016 issue of strategy.
#1 Brand
The last time P&G claimed the CRC's top slot (back in 2013), it was after creating award-winning ads that responded to a changing consumer profile. Some of its household cleaners, like Tide, were eschewing stereotypes by showing men doing the laundry on TV, while Cheer created shoppable music videos in an effort to speak to millennials. Small tweaks to the brands' marketing led to it cleaning up the Report Card, and the CPG company has done it again.
This time, the brand is Always, and the shifting audience is the incoming generation Z.
"Gen Z were developing their personalities and life skills in a socio-economic environment marked by chaos, uncertainty, volatility and complexity," New York-based agency Sparks & Honey stated in a report on the cohort. "They intend to change the world… Gen Z are determined to make a difference and make an impact."
Therein lies one of the main reasons Always created the "#LikeAGirl" video that attempts to do just that – change the world by "championing confidence" in girls, and simultaneously win the hearts of gen Z.
"This younger generation is a lot more socially conscious, and they're looking for what a brand stands for," says Julie de Ferron, global communications manager for Always, on a call from her Geneva outpost. "Where we want to take an intentional stand with Always is to explain [our brand purpose]… We want to showcase and highlight what we're doing with our brands, on top of our products."
Many don't know that, for 30 years, Always has been communicating with adolescent girls going through puberty by sending menstruation information (as physical brochures in the post and digital booklets via email) to their parents, teachers and guardians. Along the way, the brand has helped 15 million girls each year, in 65 countries, to understand the changes to their bodies, says de Ferron.
"We have been doing education programs for years, but we weren't talking about them much," she says. "We were talking to anybody who was asking a question, and if you were looking for the information, you could find it [online] — but we never really explained all of [our initiatives to a mass audience], it's just not something that we [did]."
After a 2013 study showed that girls' confidence plummets during puberty, Always decided to become more vocal and use digital to communicate its brand purpose – and, in turn, move away from only being focused on showing product performance in its advertising. The result was the "#LikeAGirl" video by Leo Burnett.
One year (and 60 million views) later, the brand released a second spot, called "#Unstoppable," which showed girls destroying boxes displaying negative words, along with the announcement that the brand would "revamp its content" around body and cycle education to also include content that supports confidence-building in young girls, says de Ferron.
The brand's website is now a hub for videos of real girls proudly playing sports, like a girl. The brand is also sending Always P&G nurses to developing countries to speak to students about their changing bodies, and it has set up a TED-partnered Confidence Summit, with talks from experts on how to tackle the issue.
By combating the societal pressure young girls experience, Always is communicating its brand purpose to the next generation of girls who have a "stronger tendency to want to understand what a brand stands for," adds de Ferron. "Our objective was to create a movement in the sense of having more girls participate in the program, and we've had overwhelmingly positive [emotional, as opposed to just functional] interactions with the brand. That, honestly, we hadn't seen before."