Toyota turns to tech
The automaker's new digitally-driven experiential play targets millennials outside of the traditional dealership.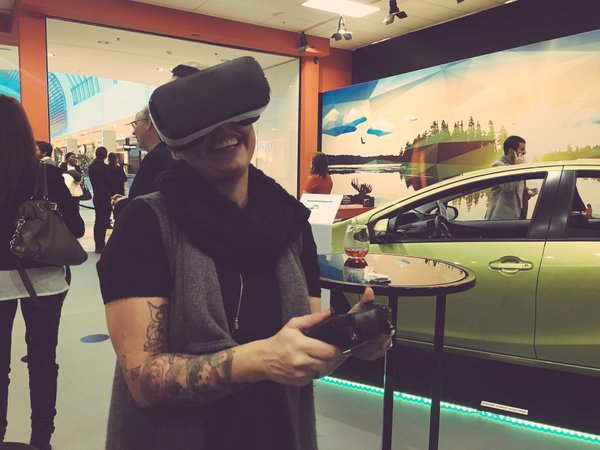 Toyota is looking to build some good will with the next generation of car buyers by giving them a chance to participate in tech-focused experiences, and a chance to interact with the brand outside of a dealership.
"Towards Tomorrow by Toyota," launching this weekend at Square One Shopping Centre in Mississauga and running until early June, features four vehicles – the IM, Rav4 Hybrid, Prius C and the new fourth-generation Prius – surrounded by technology showcases like virtual reality driving simulators and digital painting interfaces, interactive photo opportunities to be shared on social and decor inspired by lifestyle photography. Outside, consumers can test drive the vehicles on display, as well as several other models.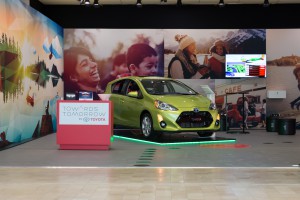 Cyril Dimitris, VP of sales for Toyota Canada, says recent research around the path to purchase in automotive revealed that technology has meant younger buyers are not only coming into sales situations more educated, but expecting an experience that is more tailored to their tastes and different from what is traditionally expected in a dealership situation.
"Everyone is more educated and doing most of their research before they even go into the dealership, and that's natural," Dimitris says. "But what we're finding is people still want to touch and feel and test out the car, but to do so in a low-pressure environment. So we're also diversifying the way we collect leads and send them to dealers to follow up and move towards a transaction."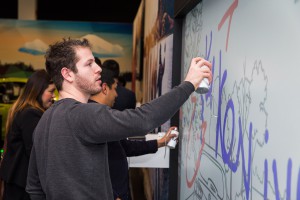 Juxtaposing Toyota's cars with tech and social experiences is meant to remind young, urban drivers of the experience and excitement only a car can provide. Dimitris says while Toyota has scored highly on rational factors, there was an opportunity to connect on a more emotional level with the things important to the target's lifestyle. While a larger selection will be available for a test drive, the vehicles spotlighted inside are ones the company feels are stylish, versatile and more tailored to the urban driving experience, while the photography reminds them of the different activities they might feel are important.
Urban millennials seem to be the favourite target for automakers lately. That is because of urbanization trends and the fact that millennials are become a bigger percentage of the buying public, but Dimitris adds there are other factors that have had an impact on the way that target approaches buying a car.
"We're also finding that we're competing not just with other automotive brands, but with other places they could spend disposable income on," he says. "That could be disruptive ownership models, but also things like new tech and vacations. What we're hoping to do is engage them in a conversation about the relevance Toyota has to the kind of experiences those things offer them."
Toyota recently made the decision to end its youth-focused Scion brand and absorb its vehicles under the general Toyota banner. The Scion brand, which was launched to reach younger drivers, had the youngest average buyer in the industry, 70% of whom were first-time buyers of any Toyota brand, and Dimitris says another goal of this event is to bridge the gap between Toyota and consumers familiar with Scion.
The event is being promoted with messaging in Square One (Dimitris says the target demographic visits a mall environment two-and-a-half times a week, on average), as well as radio and geo-targeted social posts. The event is being spearheaded by Desperado, with Saatchi & Saatchi Canada handling messaging around it.
Featured image courtesy Casie Stewart