RBC celebrates easy travel
The latest campaign for its Avion rewards program focuses on the joy of paying for an ideal trip using points.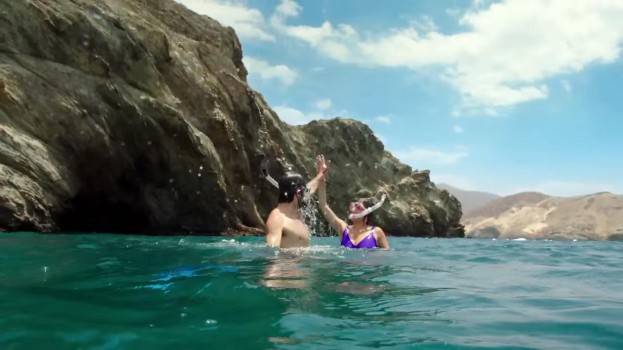 RBC is tapping into the feeling that a trip is that much more fun when it's covered by points.
The "On Points" campaign developed by BBDO Toronto shows the "high-five worthy" moments that people celebrate when they travel, as well as the joy when they are able to book and pay for their entire trip using their Avion points.
Initiative, formerly M2, handled the media buy.
The "On Points" campaign recently debuted its latest spot, focusing on a tropical snorkeling trip, which is running through April. The first spot in the series launched in the fall, with rotating creative focusing on different types of travel popular during different times as year (it launched with skiing in September, and was followed by a jungle trek spot) and featuring different kinds of travellers (from couples to families to a "girl's outing"). Jennifer Howard, head of marketing for payments and cards at RBC, says travel as a whole is a common interest among Avion members, but the idea was to reflect the diverse demographics and travel interests they have, with 15-second versions running throughout the campaign to keep multiple assets in market at the same time.
While Avion has made "any, any, any" (any flight, any airline, any time) a key part of its rewards offering in past years, Howard says this campaign has been about taking that promise and making it clear that things like hotels and car rentals are covered, as well as other purchases through the "pay back with points" option Avion offers.
"It's always been assumed that promise was driving the moments in our ads, but we decided to be more overt about it and say it out loud," she says. "It brings a tangibility to the value the card offers. We want people to understand they can use it on the flight or hotel or car rental, and that's the evolution. People think about getting their flight on points, but the idea that you can get your entire trip on points is that next step of the communication."
Howards says to compete with other rewards programs, the campaign looks to differentiate Avion by also showing that any flight or travel option can be booked through Avion, a pain point that consumers have expressed when it comes to competing programs.
"Everybody has zeroed in on the flight and everybody in our category is talking about 'any,' and all the language people use is starting to sound the same," she says. "We wanted to introduce something different and that's the idea of being able to do everything on points. We know consumers struggle with moments of being about to book a trip and wondering if you're going to get it. We're dramatizing the moment when they realize that's not going to be issue."