Molson launches historic product line
The beer brand goes as far back as the 1700s in its recipe vault for its latest brew.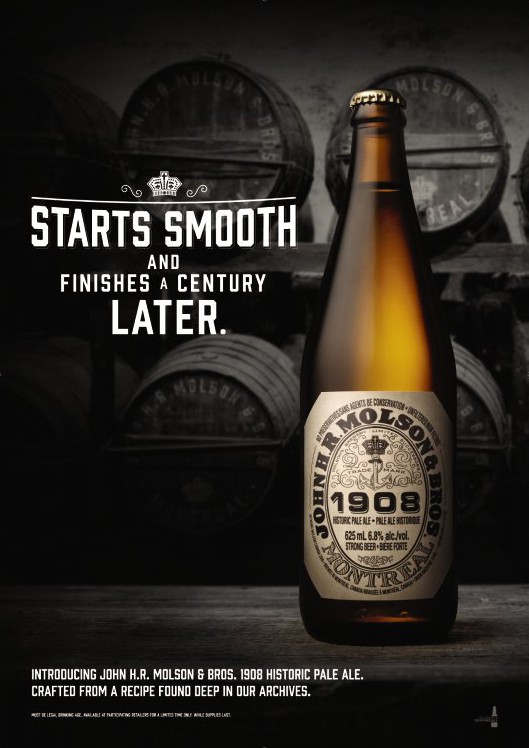 Molson Coors has launched a new product line based around its centuries of experience to reach beer drinkers interested in new flavours.
John H.R. Molson & Bros. 1908 Historic Pale Ale is a 6.8% ABV strong ale brewed in Montreal and based on a real recipe pulled from the brewer's archives. Molson's brewmasters worked to keep the beer as loyal to the original recipe as possible, tracking down hops closer in flavour profile to the ones that would have been used in 1908 and using a strand of yeast derived from the same one John Molson first used in the 1700s.
The 1908 Historic Pale Ale is available in traditional 341 ml bottles as well as larger 625 ml formats and is the first in a planned "John Molson Archival Series" of limited-edition beers based on historic recipes to come out of the brewery's 200-plus year history.
"It's a time when people want genuine and authentic, and that's what we have," says Christine Jakovcic, VP of marketing at Molson Coors Canada. "We're pulling out real recipe books from 1908, and that's pretty cool. If you think about all the different choices people have in the [beer] market now, the types of things driving new interest are different flavour profiles from brands that can be unique and authentic."
The beer is being supported with print ads and sampling events. Rethink handled creative on the launch campaign, with MEC on the media buy and Citizen Relations handling PR.
"We feel we need to drive awareness because it's new, but we're doing it in a more traditional approach as opposed to a flashy, shiny one," Jakovcic says. "A big TV campaign wouldn't be authentic to the idea of a historic beer, so you'll see more of the kinds of ideas you'd see in 1908."