I'm beginning to suspect everyone's a bot
Publisher Mary Maddever on big data and the challenge of not creeping everyone out.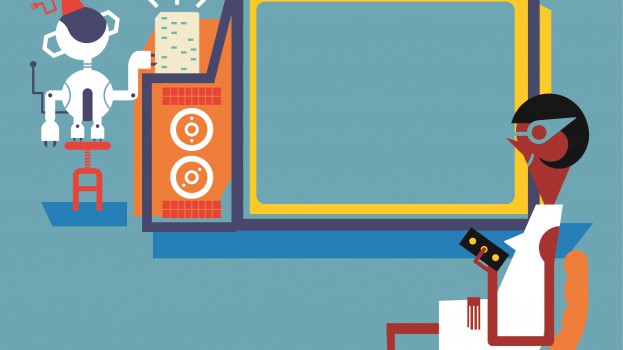 This article appears in the Summer 2016 issue of strategy.
I started to get helpful texts from the hotel staff the minute I arrived for the Banff World Media Festival. They may well be from real people who may or may not be named Monica, Laura and Lori, but the fact that my first thought was AI is telling. I'm leaning towards real people, as I doubt a bot would apologize "for [my] short comings."
Now I may be more cynical and suspicious than the average guest, but as more and more brands sprinkle bots into their customer service interface, we're all going to be having conversations like that lady in the BMO commercial – "could it be a real person?" Spot-the-bot speculation may make the brand seem less personal rather than more attuned to you.
Then there's Crystal Knows. It scrapes around people's digital trail and profiles them – telling anyone who wants to communicate with them what their triggers are – essentially turning us all into bots. I checked it out when it launched last year and found it disturbingly spot on. But I digress.
As we throw off more and more data – originally by clicking a link to check out a hotel, and next by looking up instead of down in VR – and as all of this info informs more and more of what we see next, from addressable TV to customized brand interaction, the challenge will be to not creep everyone out. And to leave room for discoverability.
This all comes at a time when the options are limitless for our finite attention span, which is one of the reasons it's necessary for brands to zero in on what we want.
One of the presenters at Banff, David Beebe, the VP global creative and content marketing at Marriott, said "our strategy is stop interrupting what they're interested in and be what they're interested in."
The Marriott content studio is known for its output of films, docs, TV shows and web series, and usually has 20 to 30 projects on the go (sort of a reverse Disney). "That's the challenge now – scale. What works for one brand doesn't work for all."
The goal is engagement – and then retargeting with one-to-one marketing.
Beebe says reward-member data helps them engage people with the right content, and their loyalty program is evolving to capture more guest activities and giving points for experiences – like going to the gym.
While it makes sense for brands to try to own audiences and glean more data, rather than rent them, curating customized content strategies at scale requires a mini studio operation and a ton of mostly self-funded content.
So, while the new shows the nets revealed may seem like familiar Fall TV territory – reboots, spinoffs, not to mention an obsession with time travel (it's the new superheroes) – what's happening behind the scenes, the efforts to compile more granular viewer data, and to deliver targeted content, is one more sign of how the remit of entertainment and brands is continuing to blur.
But the networks go full mass for broadcast and also have the benefit of scale when they skew to moms or millennials. So when you add targeted advertising to the equation, they have the broadest possible audience plus addressability, and that really changes the playing field.
Cheers, mm