Kia Canada's quality surprise
The auto brand hopes to shift value-based perceptions of its cars using spatial augmented reality.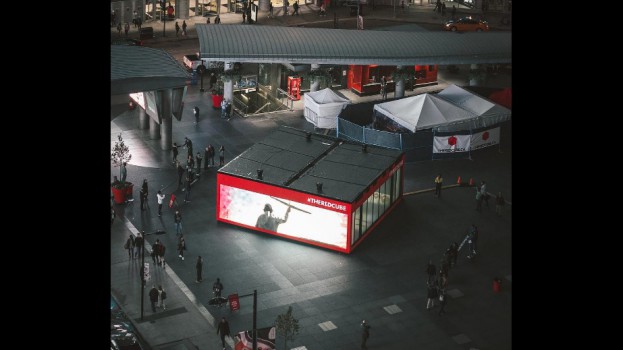 Tourists and passersby at Toronto's Yonge-Dundas Square may have noticed a 30′ by 30′ cube made from four large screens this past weekend.
Visitors who came closer may have seen that the screens were transparent, and used projection mapping (otherwise known as spatial augmented reality), a technique that turns irregularly shaped objects into display for video projection, creating projections of cross-country adventures, depictions of nature and geometric animations on top of three different cars inside the cube.
However, it's not until the end of the animations that the cars are revealed as Kia vehicles (the Forte, Sportage and Soul). The cube itself contains no Kia signage (simply using "#TheRedCube" on the exterior).
"The goal is to get audiences engaged and admiring these cars before they even know they're Kia cars," says Steve Carter, director of marketing for Kia Canada.
Media and creative for the brand awareness campaign were both executed by Innocean Worldwide Canada.
The Kia brand has been operating in Canada for 17 years, but Carter said the perception of the brand needs to shift from value to quality.
"Research has shown that Canadians see our cars the same that they did five or 10 years ago — a car that was inexpensive but not necessarily a quality car," he says. He expected that sales would be up 4% to 5% year-over-year by the end of 2016.

"The theme of the campaign is 'the Power to Surprise,'" Carter says. By associating the cars with a more adventurous and sexy image, Carter says, Kia's identity as a quality car can become more present in Canadian's minds.
"We're hoping the reaction will be, 'Wow, that's a really great car,' before they even realize that it's a Kia," he says,
The campaign will target all Canadian auto-buyers, with a sweet spot in the Gen X age range. Yonge-Dundas Square was "the perfect target," Carter says, not only due to the high foot traffic but because the central and retail-heavy location of the square is a complement to the "exciting and current" image the campaign aims for.
Along with the Yonge-Dundas Square activation, Kia will run broadcast spots, a pre-roll digital video and social media campaign until the end of 2016.
Kia Canada has already engaged in activations with the red cube in Montreal and Vancouver, where Carter said they saw 12,000 and 18,000 interactions, respectively.
From Media in Canada